FROM: High Command
TO: Arma 3 Users
INFO: 10th Anniversary, Update 2.14, Creator DLC
PRECEDENCE: Flash
SITUATION
It has been a full decade since the release of Arma 3 1.00. For a game to be thriving for such an incredible length of time is quite remarkable. Almost coincidentally, those 10 years have also brought more than 10 million players into the fold. We are all very much humbled by this success. Before we start recapping the past year of Arma 3's development, and to look at the current state of things, we'd like to take a moment to say thanks. There are just so many people who've contributed across all phases of the game's life so far, so here we go...

First of all, we cannot forget about the early days of Bohemia Interactive and previous installments of Arma. Much of what has been accomplished in Arma 3 stands on the foundations laid by those legendary developers. It's easy to point out aging parts of the Real Virtuality engine by current standards, but we can all agree that it has allowed a sandbox of a scope still not often seen in the games industry. Secondly, we give thanks to the first team in Brno, who started early pre-production under codename "Futura", as an expansion to Arma 2. The final direction of Arma 3 may have changed a fair bit, and yet they provided us with many of the core components and champion assets. Next, we give our thanks to every single person who helped during the game's core development, kicking off with its Early Access phase and running through all DLC projects since. That also goes for the external Creator DLC teams, who were brave enough to commit to a pioneering program and have brought enormous diversity to the game's settings, in time, and place. It's also important to acknowledge all the supporting BI departments, without whom releasing any game would be impossible. Massive kudos to our Operations, Publishing, Marketing, Online Services, Customer Support, HR, IT, Legal, Finance, Back Office and Facility Management heroes. And we also cannot forget the various external partners, who have offered advise, consultancy, and other important services. If you're curious about the actual names behind many of these groups of people, do check out the full rolling credits in the game.

Then we come to another essential group of people, yourself included: the community. Having a great game that we enjoy ourselves is one thing, but you have kept it healthy and strong to this day. A talented group of modders have expanded the platform beyond anything we might imagine. Scenario designers have produced countless hours of extra playable content and shared it on Steam Workshop. Unit leaders have organized amazing multiplayer operations of all flavors. Server administrators have provided stable places for players to get together. Moderators have dedicated their time to keeping online communities fun to be a part of. Creators have excited the rest of the world about the game by means of artwork, videos and livestreams. Supporter Edition purchasers have given us early trust in our direction. And every single player of Arma 3 has made this an unbelievably splendid decade for us all. Our heartfelt thanks to you all!

INTELLIGENCE
To mark the occasion of the 10th anniversary and the fact that we're still pushing out platform updates, we wanted to make update 2.14 a little more special. We had to be realistic in our own wishes though. Only a very small and part-time Live Ops crew remains on Arma 3's development. Let's unpack the free goodies and some of the stories behind them.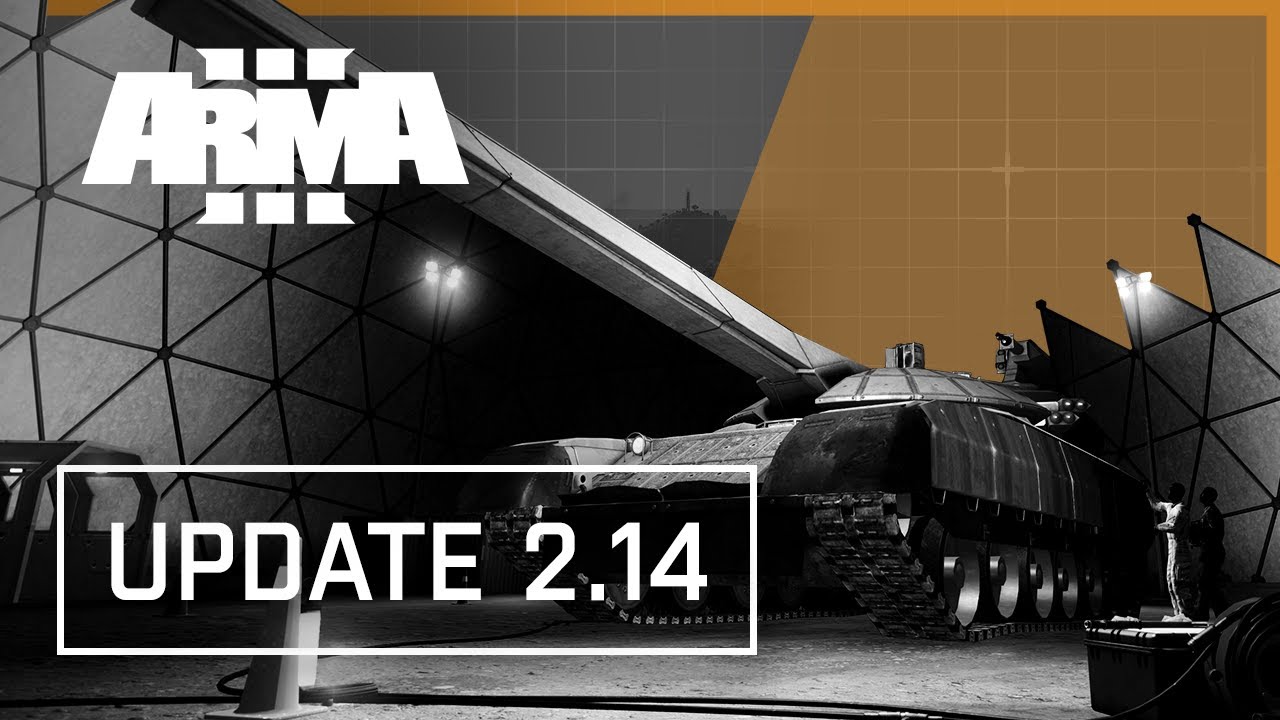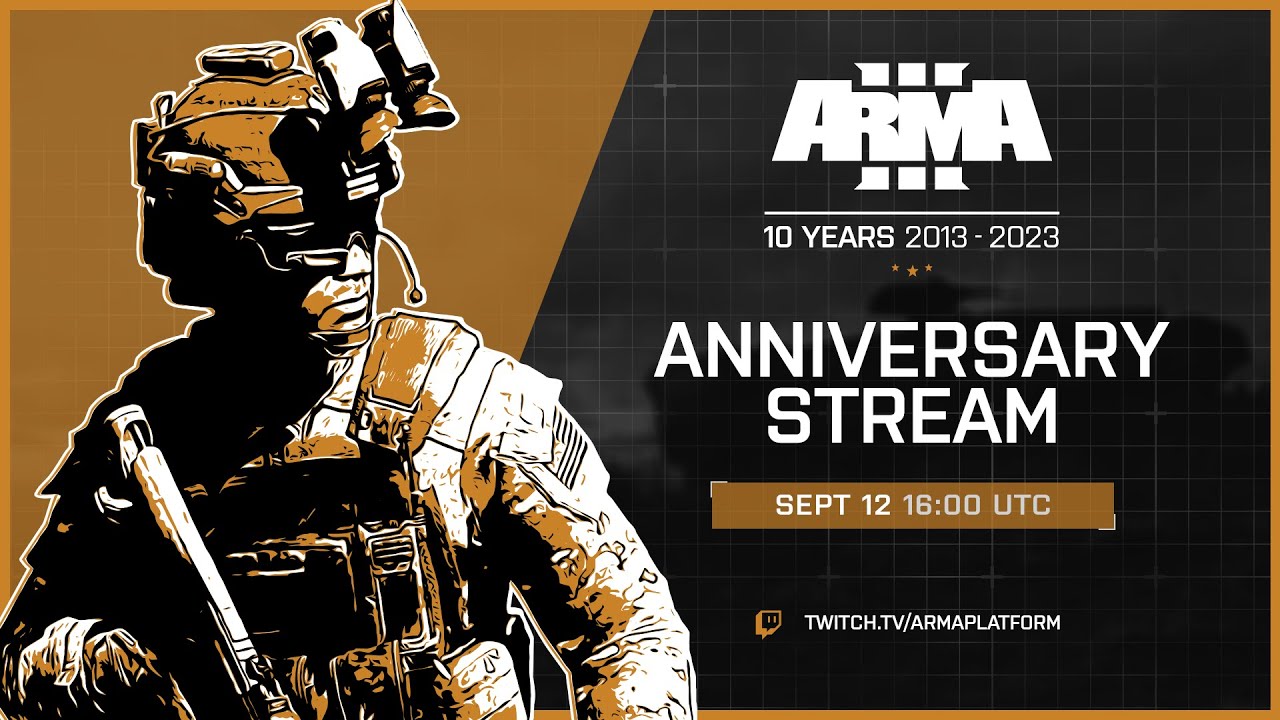 Not to put a damper on the celebrations, but there is another topic we want to bring to everyone's attention once more: respecting intellectual property rights. This is not new and a very complex area, especially in a heavily moddable game like Arma 3. We are however still seeing a number of issues, for example by people (re-)publishing other people's work without permission. It also makes it difficult for us to signal boost some community content, like artwork, when we suspect it depicts infringing content. We are fully aware this can also happen accidentally, because it may not be obvious from subscribing to mods on the Steam Workshop that they have such issues. Ultimately, we would just ask that people be aware of this topic and try their best to act with respect to the license agreements and the rights of others. Seek permission where needed and add credits where they are due. Using assets from other games (or using Arma 3's assets in other games) is especially risky and most often not permitted, so be sure to bear the relevant EULAs in mind. It will help us all in the long term to keep this community open, creative, fair, and splendid. If you would like to learn more about intellectual property in the context of Arma, you can visit the Community Wiki.
OPERATIONS
So what does Arma 3 development look like now and going forward? Well, simply put: it's the same as it was in last year's report. Especially if you're new to the game, please check back to its OPERATIONS section for a description of the current Live Ops mode. The team is approximately the same, we still work similarly, and we maintain testing branch activity. Our other Bohemia Interactive priorities do grow, so a certain slowing down is still to be expected. The biggest chunk of the work is coming straight from Feedback Tracker and Discord, or from Creator DLC developers. We don't know how many platform updates will yet appear or when, but it's safe to say an update 2.16 in the first half of 2024 is in the cards. Even at the start of its second decade, Arma 3 is very relevant to players and to us. We will do our best to keep it running well and to offer the occasional fun nugget for players or creative contribution for modders.

Our other initiatives, that would open certain aspects of development to the community, still have not materialized from their idea stages. We do think they are a probable direction in case we have to scale down Live Ops even further though. When we have more concrete plans, we'll of course reach out on community channels.

LOGISTICS
Earlier this year, we also released update 2.12. While this was a relatively small platform update with fixes and tweaks, there were several fun toys for scripters and modders added as well. Most prominently was engine support for two types of new procedural textures. Type "text" basically does what you'd expect; it allows you to render dynamic text on 3D models. The possibilities are plentiful, but imagine custom nametags on uniforms as an example. Then there's type "ui", which goes a step further, letting you project an actual User Interface onto a 3D object. A use case for this is to have an interactive topographic map on a briefing board. Note that update 2.14 introduced an even more advanced version of this as "uiEx".

After some period of inactivity, players on Mac and Linux will have noticed some positive movement again this year. Our partners at Virtual Programming have not only ported version 2.12 to Mac (the last version before that was 1.82), but they went the extra mile with support for Apple silicon (M1 / M2), as well as Intel chips. This also meant more of the game's DLC got support on Mac. We've been happy to see an influx of Mac gamers, many able to experience Arma for a first time.