FROM: High Command
TO: Arma 3 Users
INFO: Creator DLC, Live Ops Status, Update 2.06 Preview
PRECEDENCE: Flash

SITUATION

Hello to all players and creators in the Arma 3 community! It has been some time since we last provided an overview of the state of Arma 3 development. We have just celebrated the 8th anniversary since initial release, and even in its 9th year, there still are many thousands of first-timers entering the Armaverse. That is incredibly cool, but we can also imagine many have not read through old reports and do not know about our actual support plans. So let us take a look back at the major milestones during 2021, check in with the Live Ops crew, and explain our perspective on the future of Arma 3. Buckle up, this is going to be a long one!

INTELLIGENCE

It may have been released months ago, but it's never a bad idea to remind ourselves of the Art of War Charity Pack. Purchasing this DLC even now will still contribute to the donation made to the International Committee of the Red Cross later this year. The DLC is available at 3 price points, all offering precisely the same content. The difference in price tiers is there just to present an opportunity to raise your donation. Any and all support is very much appreciated!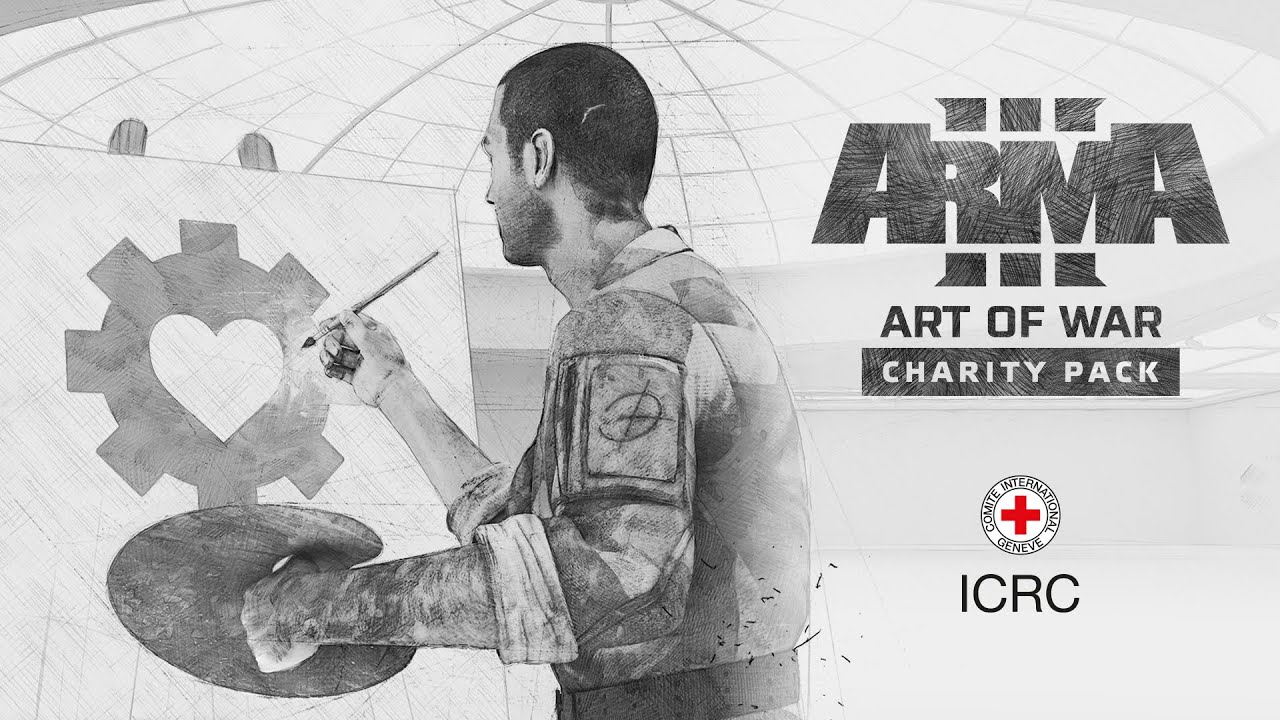 We're happy to have seen the community use the premium DLC additions in the ways we hoped, and even some we had not imagined. You've run HVT ops using the formal suits and parade uniforms, and we've also seen community memorial events that featured the new props. Kudos to our colleagues in Thailand who have helped produce those splendid assets. Did you know we have added PSD texture templates to the Arma 3 Samples to serve as inspiration for re-textures?
If you have not done so already, make an in-game visit to the Lars Blanken Gallery and feast your eyes on the artwork on display. Our thanks again to every community artist who has submitted their artwork to be presented. If you'd like to make use of the in-game textures for your own scenarios, check out this guide with previews and texture paths. Special thanks go out to the community members who submitted 3D models for the original art contest that inspired this DLC. Ultimately we decided not to incorporate these as fully functional assets, but they make great appearances as static props in the gallery. Cheers for the 'Doggo' by Horrible Goat and for the wooden coffin by Karel Svoboda! Keen to know more behind-the-scenes stories about the Art of War contest and DLC? Read about it straight from its primary developer Scott Alsworth in his interview published earlier this year.
The second noteworthy release of 2021 was free update 1.3 for the Global Mobilization - Cold War Germany Creator DLC. In addition to UX tweaks and fixes, this update also added yet more value in the form of top-notch assets. Highlights included the Schützenpanzer 1 IFV and UAZ 469 car, but it did not end there. Read up on the whole package in their OPREP and check out the accompanying trailer.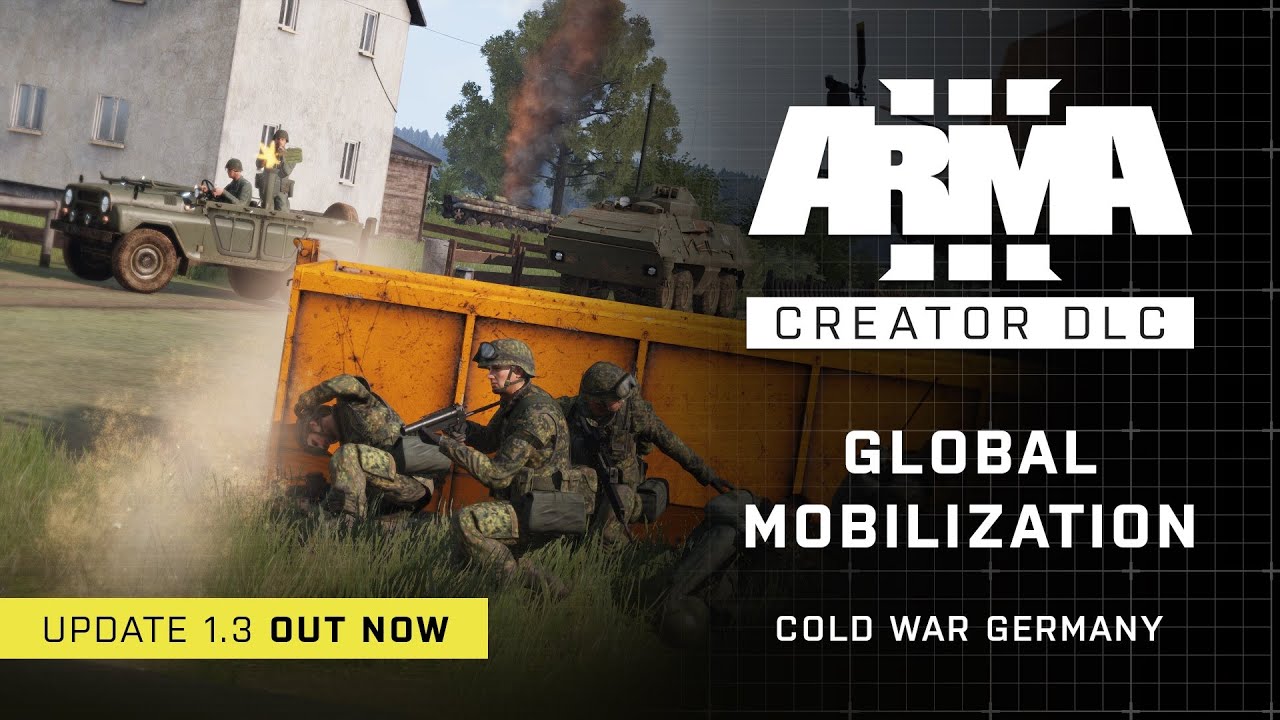 Developer Vertexmacht has also updated their Steam Workshop extra mods, which retexture their content for the Takistan Armed Forces and Altis Armed Forces. And for content creators out there, they have updated the Community Wiki listing of all content class names.
Just a few months later it was time for Savage Game Design to release their Creator DLC to everyone. S.O.G. Prairie Fire transported us all to their beautiful Cam Lao Nam environment, equipped with a huge range of new tools of war. Being the culmination of over a hundred passionate developers and many years, this release was not only a great success itself, but it also drew a big group of new players to Arma 3 itself. We interviewed SGD about the project, their origins and how things went, so you can read all about that as well. We can also recommend a visit to their own project website for an in-depth overview of the DLC, links to interesting Vietnam veteran interviews, intel about the many community multiplayer modes already ported, and anything else you might want to know. As is the case for all Creator DLC, you can freely preview its content via the Compatibility Data for Non-Owners, which is also used in case you want to connect to multiplayer servers that require this content.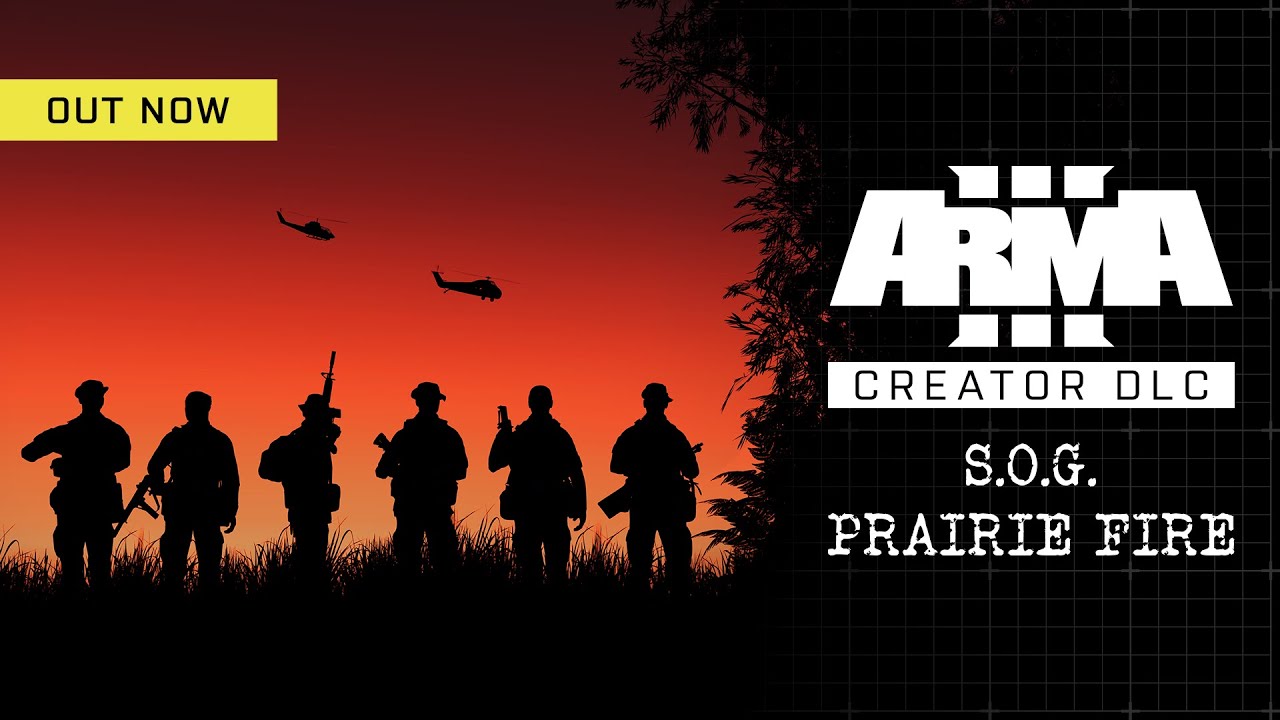 S.O.G. Prairie Fire also contains some very fitting original music. This official soundtrack is available to buy separately, and SGD will be donating some of the proceeds to the Special Operations Association for veterans support work.
Next to brave the release waters was CSLA Studio with their CSLA Iron Curtain Creator DLC. This alternate view on the 1980's Cold War era takes you back to Czechoslovakia and its heavily-guarded border with West Germany. Gabreta is one of its major components, providing another large terrain to stage your battles on. Additionally, there are 3 factions and supporting weapons and vehicles. Creators will find a lot of relevant documentation about the full package on Community Wiki.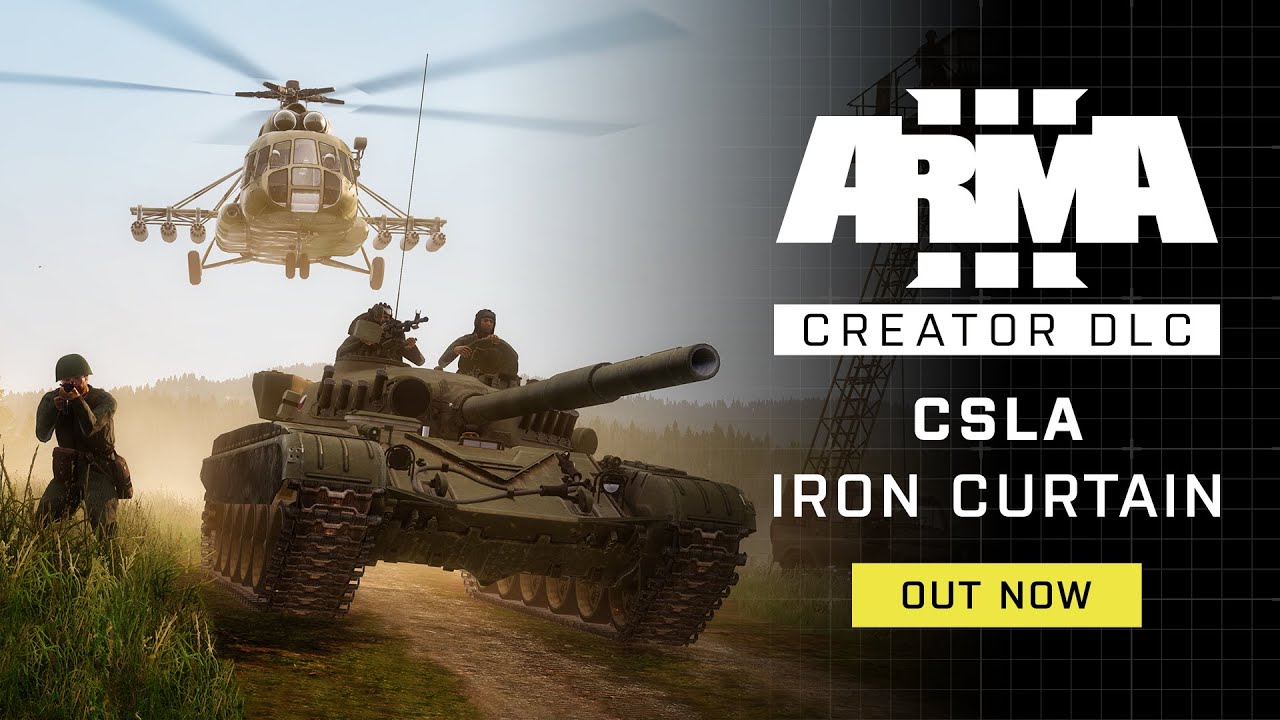 Quite a bit has been said about this DLC following its release, which prompted us to publish a statement about it and our role in publishing it. Now that two hotfix updates have been released by CSLA Studio, addressing some of the biggest build issues, we invite interested players to trying the Steam Workshop Compatibility Data for Non-Owners and considering whether the DLC is for them. Meanwhile, CSLA Studio is also working on further updates, although we have no confirmed intel on that at the moment. As publisher, we will continue to learn from all these experiences to try to improve going forward. We are ever thankful to all pioneering third-party teams involved.

Switching back to the other Cold War era Creator DLC, yet another impressive free update to Global Mobilization was released in August. Version 1.4 brought battlefield commanders various heavy pieces of self-propelled artillery, as well as nuclear-capable missile launchers. Vertexmacht also outdid themselves with the addition of the BrPz 1 bridge layer. This unique engineering vehicle was planned for some time, but was especially challenging to execute technically. As you will experience, it opens up a whole new layer of tactical possibilities on the Weferlingen terrain and its rivers. As creators have come to expect, they will find updated texture samples via Community Wiki. To read about the rest of this update, check out the team's latest OPREP blog. And perhaps even more interesting is their AMA video about GM in general. This could be seen as a type of behind-the-scenes documentary that has a lot of interesting and fun insights!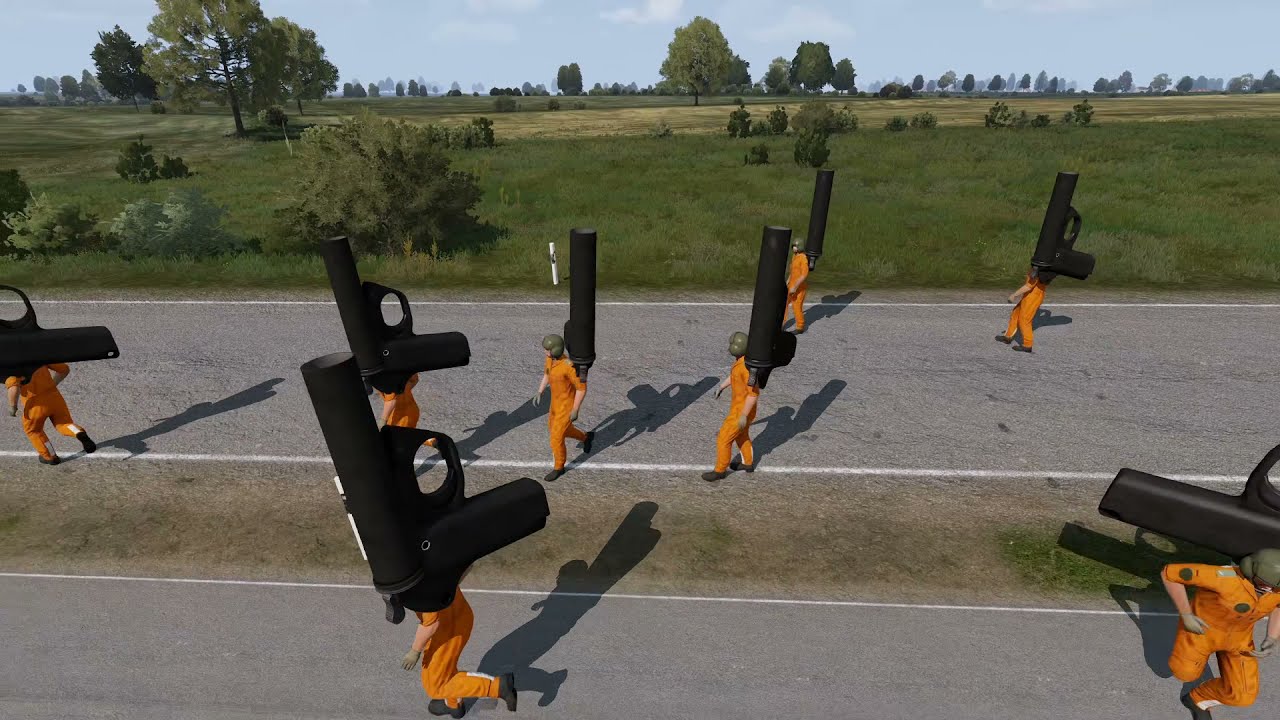 That already seems like quite a lot of activity for a year, so is there still more? Certainly! A first big free update to S.O.G. Prairie Fire is undergoing public Release Candidate testing as version 1.1. It brings Vietnam-era diving, SEAL team units and its most surprising addition in the form of an additional huge terrain. Khe Sanh is a brand-new 15 by 15 kilometer map to explore with your friends. Stay tuned to our channels for more information about this update and its final release plans.
OPERATIONS

As many of you know, Arma 3 has been in a 'Live Ops' mode for some time. Large-scale development has ended, but a small dedicated crew still eagerly tries to improve and expand the core platform. And we might even conclude their great work has exceeded even our own expectations for this stage of the game's life. This small team includes two very effective programmers known to many in the community, who are now the primary developers still spending most of their time in Real Virtuality's codebase. They are supported by embedded QA testers, who are in turn backed up by our on-demand Publishing QA army. Then there's our mastering and deployment engineer, and finally yours truly as coordinator. But we'd have to also mention many other Bohemians in various roles, who are still involved for any given amount of time. Plus, we should of course not forget a dedicated group of people focused on Creator DLC, as well as our brand and community managers. In the community too, there are people who have been incredibly supportive. Our thanks go to those heroes who help us document new changes, test complex issues, give early warnings of compatibility problems, moderate conversations, and do much more. Especially those people active on Discord, Feedback Tracker, Community Wiki and the forums have helped out a lot (Lou Montana, R3vo and Leopard20 just to name a few). So, while the core team is certainly much smaller than it has been years ago, there's still plenty of our work going into this long-lasting Arma 3 adventure!

In previous reports we've explained that the scope and nature of the changes still feasible to do is limited. Besides simply our available resources for development and testing, a huge factor is backwards-compatibility. Doing deep and large changes to the behavior of systems, mechanics, or even single script commands tends to break our own vanilla content as well as the enormous user-generated content library out there. Ironically, we know about certain bugs that could be fixed, but cannot because of this reason. We know of some smaller optimization opportunities, which are also too risky now. Having said that, it's still very cool to see what especially Dedmen and Killzone Kid have been able to do recently. By being active within the community, looking at various feedback channels, and having their own wishes, they have delivered some long-time requested work. Those range from script commands to Event Handlers, fixes to modest optimizations, and more. We've also recently become a bit more flexible by adding limited engine support for 'features' that are mostly aimed at mod creators. In some cases such additions even have accepted limitations, such as not working well in all contexts. These features will not be converted to vanilla game mechanics, but can still be very powerful for all players. You'll read about some examples later on.

Even though limited, these changes bring with them risks that we cannot entirely eliminate. There will be cases where even after our dedicated testing processes and public Dev-Branch / Profiling Branch / RC-Branch testing, some things break after release 'in the wild.' We will try to monitor carefully and hotfix new issues as fast as possible, but we are not the big development machine we once were. Ultimately, we do still believe the additions are worth the risks in the long term, so please be patient with us.

OK, that brings us to back to the previous main branch updates 2.02 and 2.04. They have been out for a while, but we still wanted to highlight a few cool additions for creators. Scripts can now use a new engine data structure that contains key-value pairs via HashMaps. You may know such structures from other languages and can potentially still replace and optimize certain scripts to be faster and better organized. Another popular addition has been the setObjectScale script command, which allows shrinking and growing most objects as implied. This is one of those additions which simply will break the game when used in extreme ways, but it's already shown to provide great fun and impressive artwork. In a similar vein, it is now possible to let objects following the rotation of memory points or bones via a new attachTo parameter. UI creators may enjoy the new import directive, letting you re-use configurations from the core game in a scenario of your own. For advanced mod teams, we've introduced a method to pre-compile SQF scripts and to store the resulting bytecode SQFC files in addons. It allows heavily scripted mods to shorten their start-up time and load faster. Several popular mods, such as CBA and ACE, already use this in their latest releases. We may still do so also for (parts of) our vanilla Functions Library, but that's not yet confirmed.
Nearly there, we have arrived to our current focus: update 2.06. Already undergoing public Release Candidate testing, this platform update should hit main branch during the next few weeks. And it's another feisty one! Players will be happy to experience new video options that allow a bit more control over the performance-demanding Picture-in-Picture rendering. We've also added volumetric weapon flashlight cones to make them more consistent with vehicle headlights. On the topic of lights, mod makers may appreciate having extended control over InfraRed light sources. This can open the door to some cool new weapon attachments for example. This is another one of those additions that will not be used to add vanilla assets at this late stage, but we still think can be very useful to scripters and modders. Similarly, there will be introduced scripted support for vehicle speed limiters, cruise control, and simple towing. We can imagine very cool custom creations with those, but we want to again be clear that this will not translate to vanilla game mechanics anymore.

There are three further big highlights. For many years, mods have had to rely on 'hacks' to add custom keybindings for their new mechanics. This update will allow them to implement special modded keybindings that more closely resemble the primary game controls. For players that means they can also be easily configured in the controls options. Scenario creators will find some extra functionality to place almost any type of object as Vehicle-in-Vehicle cargo in Eden Editor now. The cherry on the virtual cake is the new ability to place Eden Editor object compositions directly via Zeus, both custom ones and those from Steam Workshop. This could make the divine lives of Game Masters quite a lot easier. Please note that by default you can hold modifier key Ctrl to follow the terrain or Alt to place the composition at its original position. All in all, this update is looking to be a nice one we hope you'll enjoy!

Looking towards the future, we have some ideas of where we want to take Arma 3 Live Ops next. The game is still strong and played by many, so we like being in a position to support it yet longer. That said, we cannot confirm what the next years will look like precisely, and Bohemia Interactive priorities may need us elsewhere. For now, we'll continue with platform updates at the current relatively slow pace. We'll still try to push out Dev-Branch updates every week, but it may easily become less frequent. Profiling Branch has also become more automated and is a good opportunity for certain types of changes to be tested publicly. And there are still Creator DLC in the pipeline that we will share more information about when they can be confirmed by us and the third-party creator teams.

Beyond that, we are exploring ways of enabling more community involvement in the further development of the platform. This may start with engaging a few more experienced community developers via external contracting and merging selected contributions to future updates. But we are also interested in ways of more direct participation, such as perhaps via platforms like GitHub. That may begin with small parts of the game, like the scripted Functions Library, but maybe there are ways to go even further over the coming years. A tricky part is to keep the main game stable enough for the entire playerbase. Properly coordinating and testing many contributions can also be quite time-consuming. One potential idea would be the launch of a special 'Community Branch' on Steam, which might be accepted to be more experimental. We may reach out to community developers for their input and will let you know when such efforts start happening. There's no reason for Arma 3 to not continue getting better!

LOGISTICS

You probably thought that was it? But we still have some reminders that are less directly about the game. In case you did not know, we freely publish separate apps for Arma 3's Tools and Samples. These have also seen several smaller updates this year, primarily to add support for the new Art of War DLC and various Creator DLC. Additionally, they updated specific tools with support for SQF Bytecode and new preprocessor macros for config files.

Some eagle-eyed players may have noticed that we've had to 'enable' Steam Cloud for Arma 3 a while ago. That was unfortunately caused by a Steam client update, which otherwise would break our Steam Workshop publication (from Eden Editor f.e.). Even after communication with Valve, this was determined as a final state. The downside is that Arma 3 does not actually support Steam Cloud features, such as cloud saved games. We've even investigated whether that might be something to add, but it's highly complex due to the game's approach to profiles and the size of user data. All that is to say that while your Steam client may claim full support, it unfortunately does not and will not.

That leaves us with one last reminder for server administrators. Back in version 2.04 we've updated the Steam client libraries, which now support an opt-in security enhancement for servers against DDoS attacks. It's important to note that this indeed needs to be configured and enabled on the server-side and is not active by default. We hope this intel has meanwhile spread to most admins, but you may be helped by this community tool to scan for vulnerabilities thanks to Gruppe Adler.