FROM: High Command
TO: Arma 3 Users
INFO: Contact (Post-)Release, Update 1.96, Documentation
PRECEDENCE: Flash

SITUATION
It has been some time since we've published one of these reports. So, let's take this opportunity to catch you up on all that happened since we've released Contact expansion about two months ago, and also take a look at what's coming up with update 1.96 and beyond.

INTELLIGENCE
Although it's been a while, we will at least cover some of the highlights of the Arma 3 Contact release and its rather huge associated 1.94 platform update. Celebrated by its Launch Trailer, first contact with extraterrestrial life was established on July 25, marking the culmination of a lot of hard work by various small teams in Bohemia. We've been going through all feedback received since day one, and were very happy to see the high praise for the unique experience and sandbox additions. Of course we also saw your criticism and took it to heart, while trying to address some points in post-release development (more in our 1.96 update intel later).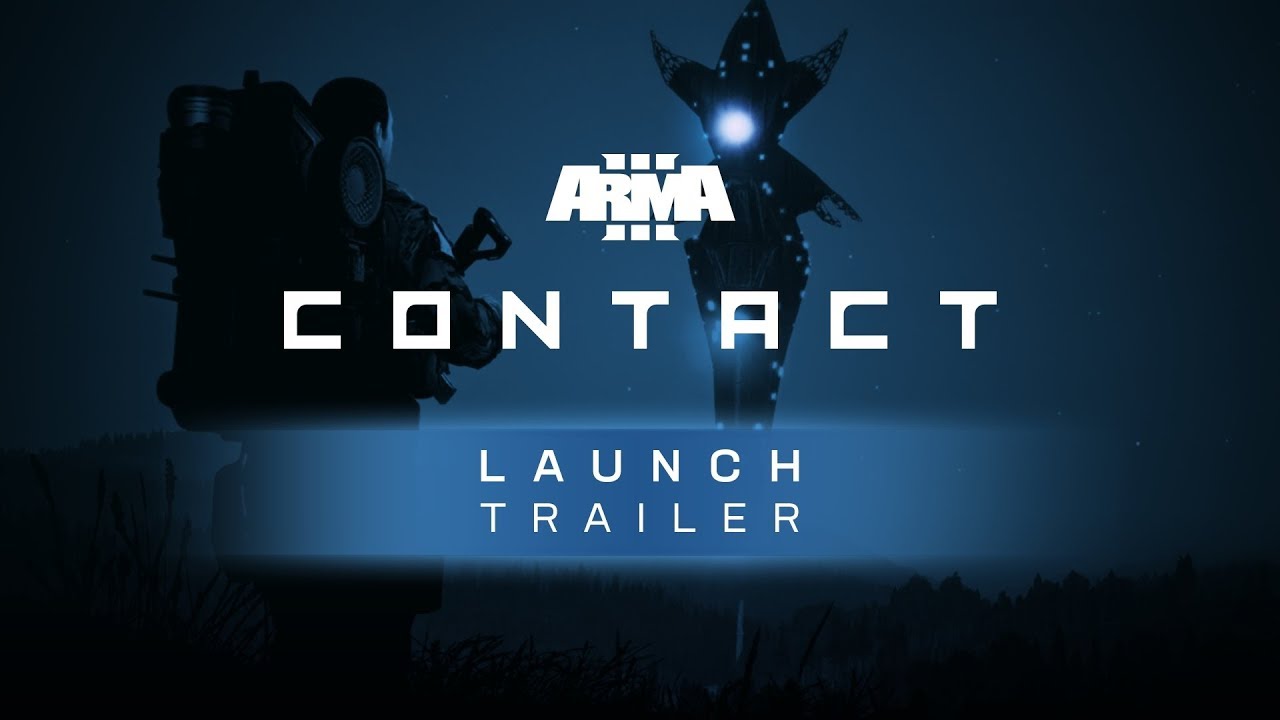 Just to reiterate, we realize the setup for Contact with a default part (referred to as Contact Platform in the game) and optional part can be confusing. It allows for more flexibility, but is not always clear. The simplest way to look at it:

For the singleplayer "First Contact" campaign (and Contact-specific user scenarios): PLAY CONTACT (or alternatively PLAY with Contact loaded or -mod=Contact)

For everything else, including Arma 3 sandbox multiplayer in Livonia and with the new weapons, vehicles, and other gear: PLAY (or alternatively -mod= or any configuration without loading Contact optionally)

In the first weeks following the 1.94 release, it became apparent there was a significant issue with backward-compatibility of existing modded Virtual Arsenal load-outs. These are challenging problems, often appearing 'in the wild' when using large mod mixes or specific use cases, even after a long public Release Candidate process and our own tests with common mods. At this stage of Arma 3's life we don't actually want to make changes to these core systems and features, but sometimes it's necessary (for example to address a security issue or exploit). After some deliberation and testing, we ultimately reverted most of the behavior of Arsenal to its prior state to allow players to use their load-outs (at the cost of some smaller fixes). As a side benefit to publishing a hotfix to 1.94, we did also manage to sneak in some first fixes to the "First Contact" campaign.

Wow, they sure grow up fast! On September 12 2019, we celebrated Arma 3's 6th anniversary since releasing from Early Access with a special musical birthday card. You can download the splendid "This is War" remix by Keosz and high-resolution "Celebrate Your Six" wallpapers by Greenfist from our website. This incredible milestone would not be possible without your support. We appreciate all of you for sticking with us!

OPERATIONS
As we've stated before Contact's release, we still wanted to try to at least improve vanilla platform compatibility of some of its more scripted features and assets. One part of this effort is slated for update 1.96 and can already be previewed on Dev-Branch. We've moved Contact's music, MOCAP animations, hand-written font, hand-drawn markers, Chemical Detector, CBRN overlays, and Spectrum Device over to the platform component (enoch data for those in the know). The devices will still not have out-of-the-box functionality and mainly work in the "First Contact" campaign, but at least the data will be available to everyone and can be referenced by community creators by their own scripts.

Let's take a look then, at the specific documentation and samples published so far (please note that some of this information could be considered a spoiler for the "First Contact" campaign):

Alien Entity (AE) Behavior: thanks to Technical Designer Maciej Pham, there is an extensive overview of how the primary small AE can be controlled by scripting. He has also uploaded sample scenarios for a more research-oriented AE and one that is more eager to defend itself. We've already seen some interesting community scenarios on Steam Workshop created using this intel! This content remains exclusive to the optional part of the expansion, and is not officially multiplayer-compatible.

CBRN: there is not much built-in platform functionality for the various pieces of Personal Protective Equipment, but we've documented some potentially useful parameters, scripts, and other methods to make use of them in your own scenarios. This includes toggling the various hoses depending on gear combinations, facewear overlays, Chemical Detector, and Decon Showers.

ED-1E Probing: Maciej has also provided documentation on some of Eddie's scripted hooks that you can use in your missions. They let you control the mini UGV's various external status lights and multi-function displays, use several scripted Event Handlers for probing mechanics, and more. A sample scenario for this tech was also uploaded to Steam Workshop.

Spectrum Device API: this part is not actually ready yet, but we're working on describing how scripters can plug into the device's display and register their own signals for the platform version (full functionality is still restricted to the optional data). This should at least allow communities to for example implement a simple drone jammer. Keep an eye on Community Wiki for this info to arrive later.
Alright, time to look ahead, specially at the 1.96 update we're preparing. We don't yet have a solid release date, but we do have a first full build and are beginning to test it thoroughly. Most of the changes are also already available on Dev-Branch. In the next weeks it's therefore likely that a public Release Candidate will become available. These are the update's main highlights:

Moving the Contact content mentioned above to the vanilla platform data.

Livonia's object addons will be decrypted to PBO, so they can be better used by terrain modders.

We've done quite a few more fixes and tweaks to the "First Contact" campaign. Thanks for your feedback and reports!

The change to waitUntil, which was initially in 1.94, will be re-introduced. This means it must return true or false. If you have not already, please ensure that your usage of the command is now correct! Check its documentation for details and scan the game for reported warnings.

Beyond even that, we have entered a phase of Arma 3's life during which there simply is not much official development support remaining. Our focus will be on critical fixes, reacting to third-party changes affecting the game, and similar topics. Internally the game is practically on permanent so-called Data Lock. We are carefully evaluating all changes going forward, simply because it's an extremely complex and large piece of software with lots of backward-compatibility hooks that make updates risky. For that reason Arma 3 vanilla will not likely receive any major changes from this point forward. Maintenance will be handled by a very small Live Ops team with ad-hoc support from experts throughout Bohemia.

Of course, we're also still supporting the Creator DLC program together with Bohemia's Publishing division. Our current development partners have been making excellent progress. Together, we're now starting to form plans on how to best release their projects, drawing lessons from the first Creator DLC, and making improvements where possible. Speaking of which, we're pleased to announce that Global Mobilization – Cold War Germany has now sold more than 50,000 times. Congrats to its developers Julian and Lars over at Vertexmacht, and thanks everyone for supporting their hard work! For those interested, we'd like to point out that the Creator DLC program remains open for new applications. If you wish to partner up, please check out the FAQ section on our website, and reach out to us for more information at businessdevelopment@bohemia.net. Note that your project does not need to be massive to be accepted. We're also interested to hear about proposals that are more similar in size to a Helicopters / Marksmen DLC.

Finally, there is a small team of designers continuing their work on the experimental "Old Man" project. We still don't have a specific update to share, but will do so once we can. Another aspect we're interested in pursuing more now is the release of more Arma 3 samples over time. Reinforced by its community creators, there are many more years of splendid life left for Arma 3!

LOGISTICS
We've recently refreshed the purchase options for Arma 3 and all related content; now is a great time to get the full experience for a good price or to complete your collection! The old DLC Bundles 1 & 2 were retired to make place for the DLC Essentials bundle, which also allow you to buy just what DLC you're missing. Of course previous owners of the retired bundles still do own the corresponding DLC. If you want to go all the way, check out the Ultimate Edition bundle. Other great starting options - depending on your thematic preferences - are the Apex Edition or Contact Edition. We'd also like to remind you that when you buy any edition of Arma 3 from the Bohemia Store, you exclusively get the Digital Deluxe Edition bonus content (soundtrack, topographic maps, and Tactical Guide).