FROM: Project Lead
TO: Arma 3 Users
INFO: Launcher Mod Dependencies, Scripted System Optimizations
PRECEDENCE: Flash
SITUATION
We've said it a few times over the past weeks, but Dev-Branch really is where our attention is placed as we move towards to next big update. We're already processing feedback on several live changes and iterating via the daily experimental updates. Other major improvements, such as for the Launcher, are detailed in another section of this report. Please keep sharing your findings in the dedicated forum threads, or via the general discussion thread. Specific issues are best filed in the Feedback Tracker.
INTELLIGENCE
In weekly dev photo #28 you may have been exposed to somewhat of an internal running gag. We've asked one of the culprits, QA Assistant Vojtěch Kovařič, to try to explain what's going on. Read at your own risk: "We showed a cardboard Commander Shepard enjoying a break with Greg and Julien. This Shepard belongs to our Prague QA team and serves as their mascot. Our QA colleagues were trying to guard him very carefully but, while they weren't looking, Shepard was taken on a ride to our Mnisek Arma 3 studio. He experienced the best month ever. Took a ride in our tank, joined a BBQ party, had a lunch with the Project Lead and met the one and only cardboard 'Flashpoint man'. All of this was of course documented and the photographs sent to Prague QA for them to see what a great a time Shepard was having. While they were not very happy and talked about kidnapping and other major felonies, Shepard had the time of his life. However, everything that is good must come to an end. After a month of a splendid internship, Commander Shepard returned to his home base among his QA colleagues and is enjoying their company instead. Needless to say, we are now heavily guarding our Flashpoint man."
ArmaHosts published a useful video tutorial on setting up a Windows Dedicated Server on a clean PC using SteamCMD (a free command-line utility) and the free Arma 3 Server app on Steam. They include a series of suggested command-line parameters and go over the server.cfg file briefly. Finally, they also recommend which ports to configure in your firewall to allow the game to communicate over the Internet effectively. We also liked seeing their default scenario being the official ZGM 4+1 Bootcamp training grounds. Excellent choice!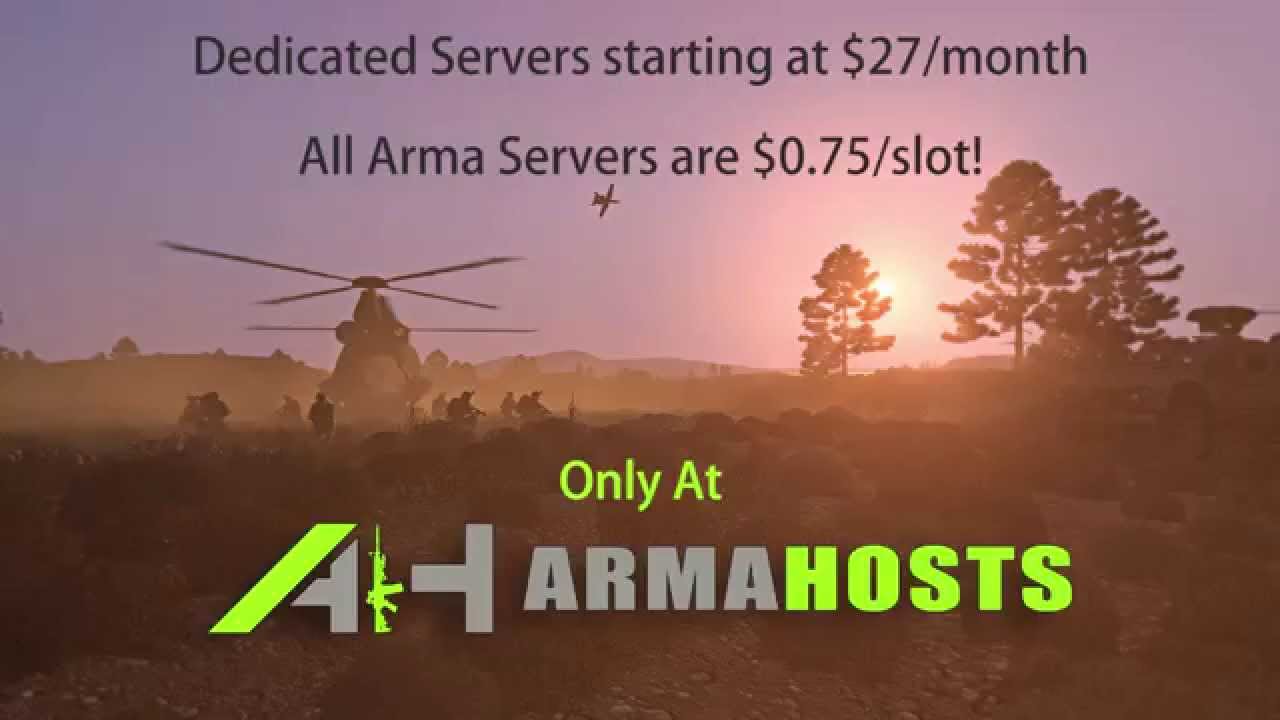 OPERATIONS
The Launcher has received a significant iteration on Dev-Branch. Launcher Programmer Jiří Polášek has kindly shared the details with us: "Our Launcher has received a major update with new features and a lot of improvements. The important ones include support for dependencies between mods: Launcher automatically detects other Workshop mods you need and it can enable them if you load the mod or get them for you in case don't have them. This said, mod authors might be interested in updating the Required Items for their Workshop items. You can do this directly from the Workshop page. Since there are a lot of large mods, another nice feature is the ability to change the folder where the downloaded mods are stored (the folder can be changed in Options > tab Mod Options > section Mods Storage)." Your discussion of these changes is very welcome in this forums thread.
For weeks now, Senior Designer Jiří Wainar has been eagerly waiting to publish his optimizations of various scripted multiplayer systems. We were quite careful to roll them out, first awaiting the engine-supported remote execution to be solid. Now the time is ripe and his changes have reached Dev-Branch. Specifically this means the frameworks for Tasks, Remote Execution and Shared Objectives should now function in a much leaner way. In our measurements this has led to a drastic reduction of the traffic generated by these systems, ranging from 30% to even as low as 3% of the original traffic. If your (multiplayer) scenarios already use (parts of) these underlying frameworks, you should see improvements to network performance. We'd recommend studying the linked documentation to consider whether your creations can benefit from similar optimizations. We do have plans for tweaking similar systems in this way, and Jiří hopes to share his observations as general scripting guidelines over time.
There also is less optimistic news to share. Making improvements to the mid-range terrain textures has been a hot topic for a long time. We have investigated various solutions and looked at the problem it with our programmers and environment team. Our conclusion is that it's unfortunately not realistic to expect big improvements for Arma 3. Existing community solutions can work great under certain circumstances, but in our opinion based on tests, make things worse in others. We thank you for thinking with us and for proposing some pretty advanced workarounds! The basic and short explanation from Arma 3's engine's point of view is that we're limited by our terrain shader and hard limits of the amount of textures we can store in materials. The overhaul required is too complex at this stage. If we do find a way forward, we'll re-open this decision, but it's not likely during Arma 3's life time.
LOGISTICS
For the latest on Eden Editor, we defer to the in-game Updates Log. By pressing its icon in the top-right of the menu (new posts are indicated by a red !), you can read a weekly digest of changes, fixes and tweaks. Of course not everybody has access to that log, but you'll be able to track all changes in the primary Dev-Branch change log. The highlights this week revolved around the rotation widget, automatic grouping and a flashlight for night-time editing.