FROM: High Command
TO: Arma 3 Users
INFO: Art of War Announcement, Old Man Recap, Live Ops
PRECEDENCE: Flash

SITUATION

Now that we're publishing these reports less frequently, the amount of information we're collecting over the weeks is growing quite a bit. Brace for another sizable update on many things Arma 3, whether from the past few months, or looking ahead at the rest of the year. We'll be going over the recent Arma 3 Apex: Old Man release alongside update 1.98, the freshly announced Art of War contest and DLC, and several other happy little topics. Good to have you with us! o7

INTELLIGENCE

Unleash your inner artist! The Art of War contest was announced in the beginning of May, and there's still plenty of opportunity to participate! There are four categories (2D artwork, props, accessories, and clothing) that await your creativity. Not only can you enhance your portfolio and win various cool art-themed prizes, but this contest is supporting our respected partner: International Committee of the Red Cross (ICRC). How? The winning entries will be featured in an official Arma 3 charity DLC. 100% of its proceeds after tax will be donated to the ICRC. Ten months following its release, the DLC will become permanently free for all Arma 3 players. In addition, the 2D artwork category specifically focuses on the theme of International Humanitarian Law in future conflict, something previously explored in Laws of War DLC. Looking at your frequent memes on the topic, we are confident you are all well-versed in the Laws of Armed Conflict by now!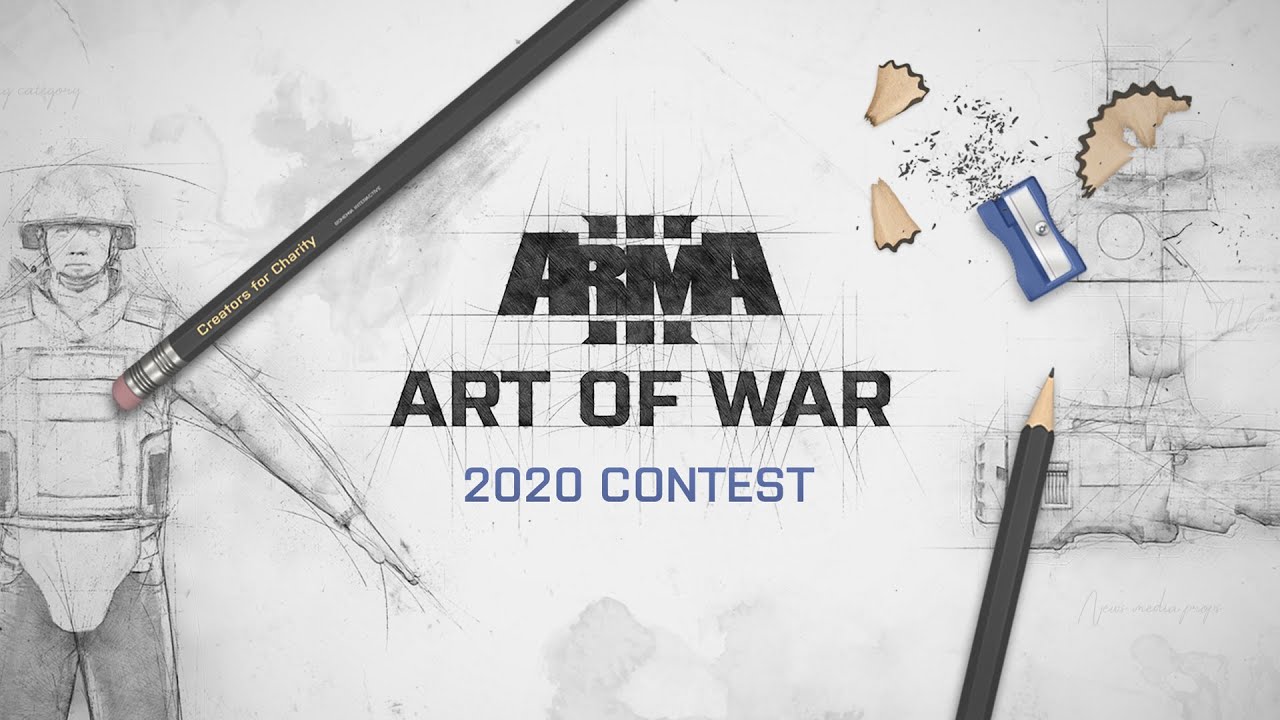 In terms of the timeline for all this – conceived and coordinated by the splendid Scott Alsworth – submissions can be entered until July 15th 2020. Please also take a look at the contest rules and this forums post, which discusses common issues we've seen so far and which hopes to maximize everyone's chances. Don't be like Stype! Then, in September 2020, we expect to announce the winners. The DLC itself is slated for November at a very reasonable price point, kicking off the fundraising period. The package will contain not only the winning entries and assets, but also two playable showcase scenarios that utilize them in creative ways.

Did you hear that the official soundtrack to Arma 3 was made available on Steam as a separate product? Since the music for DLC and expansions is also included, we're already up to 100 tracks divided over 16 'discs'. That's well over 3 hours of splendid music composed by musicians like Ján Dušek, Ondřej Matějka, and Ondřej Konvička! The MP3 and lossless FLAC files are available to owners, which includes those people who already owned the Digital Deluxe Edition content previously.

OPERATIONS

The release of the open-world scenario "Old Man" for Apex was the result of a lot of experimental and hard work by a small design team. Their goal was to explore different styles of gameplay within Arma 3 and offering lots of freedom for the player. Plenty of technical obstacles were encountered, but it was nice to see your reactions to the concept and the hours of gameplay you seemed to enjoy. We are aware of some of the bigger problems with the scenario, such as the savegames after long play sessions. A few hotfixes were made right after release, and several other fixes will arrive in the next update. By any and all means, re-explore Tanoa for yourself by going to SINGLEPLAYER > SCENARIOS > Old Man (or the main menu tile shortcut)!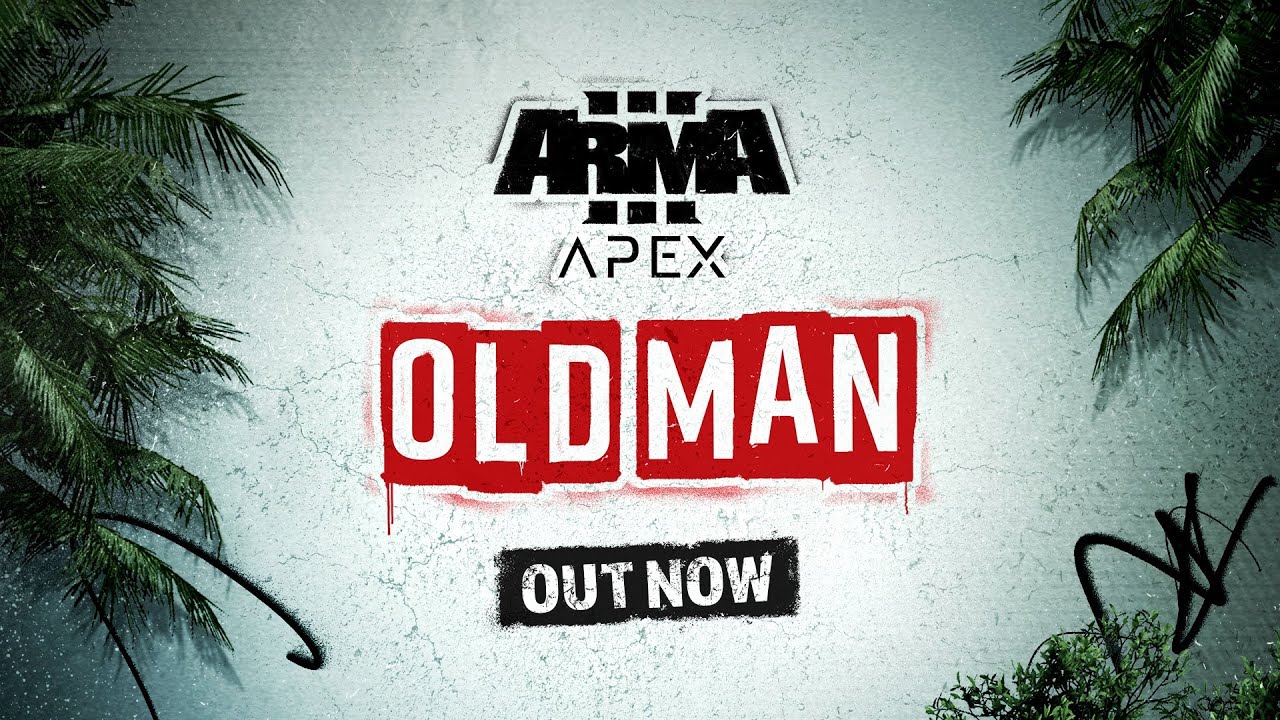 We cannot however continue long-term development of "Old Man" now. It has taught us a lot of good lessons, provided players with a cool free bonus addition, and we're happy to see it out there. What is in the pipes: documentation for the modules that you may use to build your own scenarios of this type, as well as opening the data back up under APL-SA license for inspiration. We'll share more about that when we can. And to repeat it once more, the Workshop beta item is now considered deprecated (it's effectively emptied of data). You can unsubscribe from it and just play the latest version that is embedded within Arma 3 vanilla. Many thanks for the feedback and issue reports during this beta period. It has certainly allowed us to improve the scenario as it was being Incubated. Kudos to you!

Want to give your device backgrounds a bit of a summery vibe? Go ahead and grab the Old Man artwork at various common resolutions, and spice up your home office backdrops!

In our previous report, we mentioned starting to work with externally contracted programmers to facilitate a bit more Arma 3 / Real Virtuality development than would be otherwise feasible at this stage. We're pleased to share with you that is approach is already yielding some pretty cool results. We're still working out some pipeline improvements, but various smaller tweaks and additions have since hit Dev-Branch and Profiling Branch. A recent example is a first test version of a 64-bit Linux Dedicated Server, and more things are on the way. And yet, we still want to temper expectations and remind you that you should not expect major overhauls nor big features. It's very promising regardless, thanks to our first two pioneers: Killzone Kid and Dedmen. Both have already made many contributions to the community and Bohemia Interactive, and we're happy to have them in the Live Ops team!

On its recent release anniversary, the first Creator DLC – Global Mobilization – also wrote up an OPerations REPort. In it they detailed a very exciting free content update 1.2 coming the way of owners, focused on a range of aircraft. The update is undergoing testing and we'll let you know the moment it's ready for lift off! Other Creator DLC projects are at various stages of development and milestone evaluations, with several new project pitches having been submitted to our Publishing team as well. Kudos to all these developers for their passionate and hard work.

LOGISTICS

For several years, many community groups have proudly displayed their comradery and patches using the Units service. We originally had even more plans for this service, but further development for Arma 3 was paused some time ago. It has been very clear that such functionality would be very much welcomed also in the future. Meanwhile, there have been times when the load on the service was struggling to supply data to everyone properly. We have now finally deployed a small back-end hotfix to hopefully improve this a bit. We'll be monitoring whether this has actually helped. A small reminder for serious units: it is still possible to bypass Units and host your own Squad XML on a server of your choice.

The ability to quickly and conveniently share mods via Steam Workshop has been rather great for Arma 3. We know it's not perfect and there are several issues, which we're taking on board for any future games with modding (which almost needless to point out, means pretty much all our games). One unpleasant little glitch modders deal with is the 'micro-corruption' of data. This may lead to signature mismatch errors when connecting to multiplayer servers even when the rest of the mod appears to load. Unfortunately the only real way to deal with this is to execute multiple local file verifications.

The 1.98 platform update that brought us "Old Man" also contained a range of general fixes and tweaks. And boy, it was a 'fun' release! We've already discussed in the past that it is increasingly hard to release updates to the game we all love, being out for over seven years, and with a massive amount of community content and specialist use cases. We try to pre-empt issues via public Dev-Branch, RC-Branch, and other methods, but things inevitably slip through. We then try to react as quickly as possible – while being careful, so as to not make a situation worse – and get a hotfix out as swiftly as possible. Thank you for your patience and alerts about problems!

Every update is also different. Specifically in this case the most prominent issue was new technology that sought to prevent some cases of the infamous Arma Space Program for land vehicles (i.e. vehicles randomly flying a huge distance away after collisions). Unfortunately, some parts of this tech made the situation (and desync) worse and so were disabled in the hotfix. There are still some improvements enabled, which in combination with the PhysX library update itself, may work better in some situations. Another problem was connected to "Old Man" saves growing exorbitantly and then failing to load. Part of this was fixed at the source in the scenario itself, but only works when the scenario is fully restarted. There is also a more experimental fix available on Profiling Branch for those who have a save that cannot be loaded. But we do only recommend those people to try the branch, which is considered experimental and is not for the majority of players.

It had been a while, but alongside the game update we also released an update to Arma 3 Tools for compatibility. As its TECHREP lists, the main focus was on making sure the content binarization tool would match the updated PhysX libraries. Older content does not need to be re-binarized necessarily, but it will be better in the long-term. By doing so, the engine will not need to generate the physics data at run-time and the correct version will instead be baked into the P3D files. Community developers can check the logs put out by the diagnostics executable for information on what content is affected. Other tools changes include support for Contact and Global Mobilization in Publisher.

Our Bohemia Twitter channel put out a request for the top tips for using Eden Editor. Do check out some of the solid community input in the replies, and feel free to add your own!