FROM: High Command
TO: Arma 3 Users
INFO: Arma 3 Contact, Update 1.94, Global Mobilization Update
PRECEDENCE: Flash

SITUATION
After several sneaky teasers, the newest Arma 3 expansion was announced to all Earthlings, and is scheduled for arrival on July 25. In today's report we'll provide a recap of all decoded Arma 3 Contact intel, and throw in a few more bits of information. Rounding things out are a look at some technical changes in Contact's 1.94 platform update, as well as how Creator DLC (like Global Mobilization) is going to be updated.

INTELLIGENCE
With Arma 3 Contact we're exploring what may happen if humanity were to make contact with extraterrestrial intelligence on Earth. As the player you will be investigating who or what the aliens are, and why they have arrived to our planet. Being an Arma 3 spin-off expansion, we'll of course still be doing so from a military perspective. And given authenticity is central to Arma 3, even with this sci-fi theme, we've tried to keep one foot planted in the real world. Then again, who knows what's out there?! How might armed forces react to such a historic event? Watch the announcement trailer and visit the overview website for a first impression!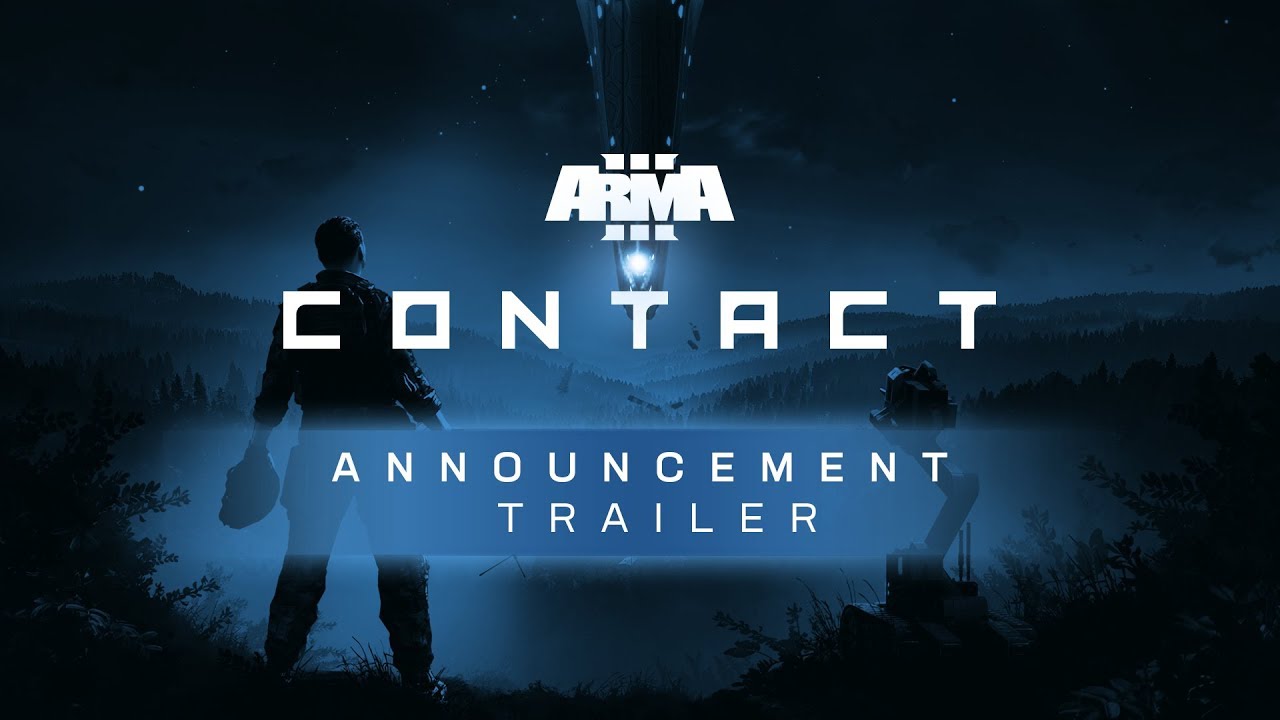 Contact (Platform): this component is automatically downloaded and installed to everybody who plays Arma 3. It is loaded into the game by default, and functions like almost all previous official DLC (e.g. Helicopters, Tanks, and Apex). Obvious examples of such content are the new Livonia terrain, weapons, vehicles, character gear, and a vast set of props. Some of these are Premium Content Licensed as per usual. This data is going to be in the enoch folder of the installation (a codename of the Livonia terrain that will remain in use in the technical data).

Contact: this component is only downloaded to owners of the expansion. It is only loaded when you manually opt to do so via the Launcher for example. Examples of this data are the actual ET, the "First Contact" campaign, and several unorthodox systems. This data will be in the contact folder of the installation. Owners can also uninstall these files via the Arma 3 DLC section of Steam client by unchecking Contact there.

OPERATIONS
We greatly appreciate all of your Contact Dev-Branch feedback, which allows us to get to a much better release day state. Several themed feedback threads were opened on the forums, and our devs also do scour various other channels for your notes. We may not have time to respond to everything individually, but know that we're reading and acting. As always, concrete bug reports are best submitted to Feedback Tracker. At the same time our internal QA is still processing many terrain sectors and assets in parallel. We've received a lot of useful and insightful feedback about the Livonia terrain, addressed various things, and are investigating other topics. Not everything will be possible to target pre-release or at all, but we'll do our best. Thank you all very much!

Quite a few script commands have had their default return value fixed in case of failure (for example when providing objNull as argument). In a similar vein, waitUntil could go into infinite suspension if it returned nil. Please be sure to check its expression result is always a Boolean. Fixing these commands caused a few hidden such broken script cases to trigger warnings in Arma 3 vanilla, so community scripters may want to also scan their content for these. Warnings will be shown to aid the hunt.

We've replaced the AITankSteeringComponent PID controller settings with re-tuned values that were kindly provided by the CUP mod team. In other words, AI tanks should follow their paths better than before. Please help us test this and especially let us know if tanks behave worse than they did, in this forums thread. Many thanks to CUP's devs!

LOGISTICS
Update 1.92 and the first Creator DLC – Global Mobilization - Cold War Germany – were released shortly after we published our previous report. Now that plenty of feedback has been gathered and fixes have been made by the Vertexmacht developers, it's almost time for its first update. This will work a little bit differently compared to regular Arma 3 main branch updates. For greater flexibility to these Creator DLC updates, we don't want to tie them to platform updates, because those have a lower frequency meanwhile. Instead, we will update the specific DLC data, which is possible due to it being stored in separate data depots on Steam.

Preparation for Creator DLC updates will occur via a newly created Steam branch: Creator DLC Release Candidate Build (accessed via code: Arma3CreatorDLCRC). Note that this branch is only useful to DLC owners; other players will not notice a difference. Similar to our previous RC branches, it may not be compatible with main branch, especially in multiplayer. And be cautious with slow and / or metered connections due to the expected large update sizes. The branch will have its own change log and discussion forum threads. Find more information on our website. The Creator DLC development teams and we at Bohemia look forward to your feedback! Speaking of which, GM now has its own project in the Feedback Tracker to have things better organized. Note that once a Creator DLC is ready for release and goes live, owners will notice the Steam client mentioning an update to Arma 3 main branch itself (even though it's just the DLC data). There will then be a change log, although we're still determining the exact format (likely different to traditional SPOTREPs).