FROM: High Command
TO: Arma 3 Users
INFO: Scanning the Horizon, Apex Pre-Orders, Visual Update Status
PRECEDENCE: Flash
SITUATION
For this week's overview of the situation, we'll join Creative Brit Jay Crowe for his annual scanning of the horizon (~ > 3 > 7). In both text and video form, he has reflected on 10 outstanding bits of progress and looked ahead to just 10 of the splendid things to look forward to in 2016. If you pay close attention, you'll see glimpses of work-in-progress concepts for the new NATO VTOL aircraft and both NATO's and CSAT's Light Strike Vehicles. The latter are going to be a blast to drive across Tanoa, with mounted weapon variants and lots of Firing From Vehicles possibilities. We've also not yet confirmed all vehicles, let alone weapons, for Apex. The same is true for features. We do have more things in the pipeline, but will confirm and share those once we're confident we can finish them properly. Keep your attention locked to the Dev Hub over the next few months!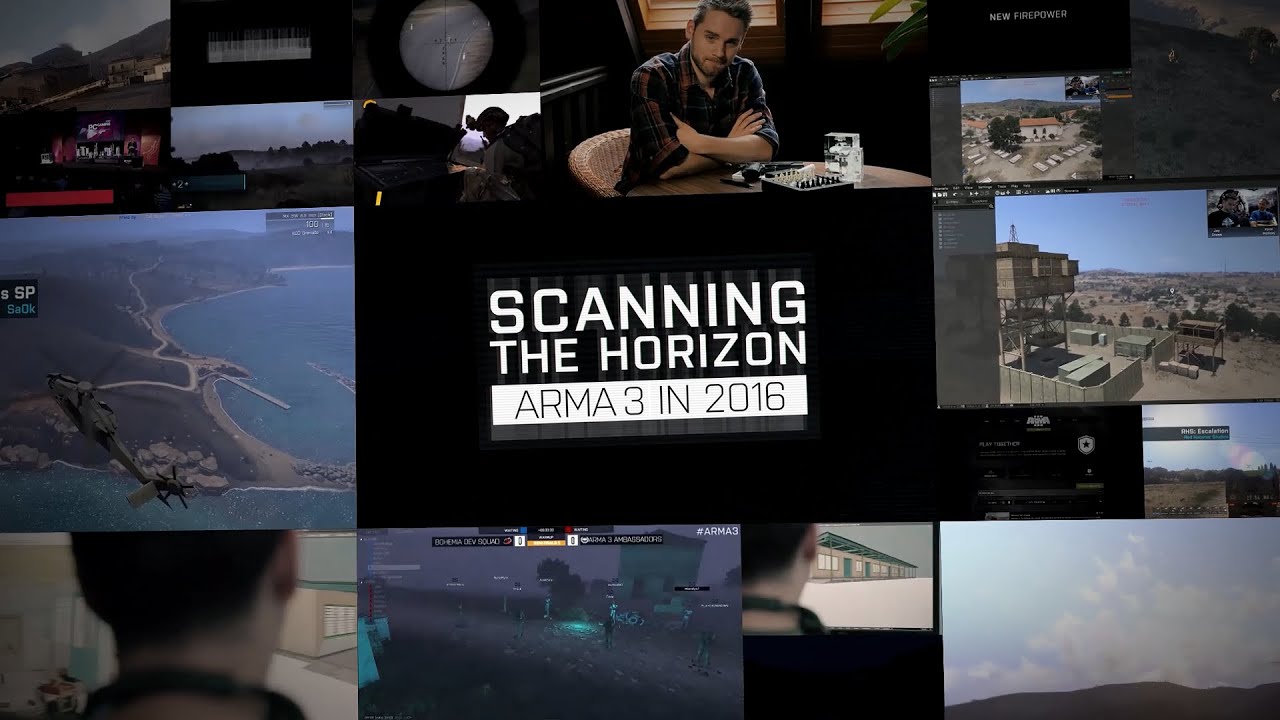 INTELLIGENCE
We have opened pre-orders for the Apex expansion via our own store with a 20% discount. Let's clear up a few confusions:
We effectively sell Steam versions, and Arma 3 remains exclusively distributed via Steam. That means you can order it from us even if you've purchased directly from Steam before.
If you own the limited Supporter Edition (no longer available), you already own Apex (because it's not a stand-alone expansion). Thank you for having faith in us from the start and being a long-term contributor to the game's continued development!
If you own the physical Special Edition, you already own Apex (because you're special!).
No other previously released editions or bundles contain Apex (it was not part of the Digital Deluxe Edition, Extended Edition, nor the DLC Bundle).
The Extended Edition has been retired in our store and replaced by the new Apex Edition for the same price. This is the best deal for new players, containing Arma 3, Digital Deluxe content, the DLC Bundle (Karts / Helicopters / Marksmen) and Apex itself.
Visit this page for another overview of all editions.
If you do already own Apex, you'll be among the first to experience its content ahead of release. We don't yet have precise dates, but we do intend to stage Apex in chunks on Dev-Branch. Its vehicles, weapons and other gear will use Content Licensing, so you can even try those for free with some limitations. Tanoa itself however, will require ownership to visit.
Also new in our store is new (Arma 3) merchandise, which many of you have requested for some time. Check out our regular T-shirts as well as special Tanoa designs! We even plan to offer new designs on a monthly basis, so keep checking back.
Last week's random dev photo is a snapshot of Team Mike's Playable Content pin board. On it we see some important project mantras, inspiring quotes and cartoons, the awesome custom Resist calendar, "Have you tried turning it off and on again?" IT instructions, balanced meal options and finally the corks that were popped to celebrate various major releases.
OPERATIONS
In our video update we also mention that the Visual Update, previously planned for Eden Update, has now slipped to Apex. Only the parallax ground surfaces will go out with 1.56, but the rest of the changes still need more work to leave a good first impression. What makes up the rest of this package? There is the overhauled lighting configuration itself, for all terrains, times of day and weather (contrast, saturation, etc.). Then there is multi-component fog simulation, a better shore shader and the optional Screen Space Reflections (these can be too demanding for some systems). It's possible you'll see them appear on Dev-Branch ahead of Apex itself, but the components are mostly dependent on each other, so we need to coordinate this carefully. All of these changes are unrelated to our investigation into DirectX 12 by the way. This has not yet yielded useful results, so we don't have any concrete news on that front.
LOGISTICS
Arma 3 launched with a very distinctive animation for walking and for moving in tactical pace with your weapon lowered. In some cases it looked good, but especially when seeing groups on patrol, it came across a bit too 'cool' and unnatural. We've added a new version in the game on Dev-Branch, which has characters holding their weapon with both hands. The original animation set remains available in the game and is accessible using the original class names. It is however not triggered in the default movement set.
In follow-up to last week's information about analytics, we've posted a Community Wiki article with some extra information. Yes, server administrators can indeed elect to opt out. We did already see some early data on Dev-Branch users. To be clear, those numbers are really only from that branch in recent days and not the much larger general player population. We hope to share more interesting information later.