UNIT: Savage Game Design
TO: Arma 3 Users
OPSUM: Prairie Fire Team helps with Special Forces veteran's Medal of Honor
EVALUATION
Hello Arma 3 players!
S.O.G. Prairie Fire developer studio Savage Game Design was part of the volunteer team campaigning for Colonel Paris Davis to be awarded the Medal of Honor. The Special Forces officer was recommended for the award by his Commanding Officer in 1965 and again in 1969, but the Army lost the paperwork twice.
Savage Game Design is on a mission to honour the legacy of servicemen who served in Vietnam. Working with veterans from the special operations unit MACV-SOG, the multinational team created S.O.G. Prairie Fire, a Creator DLC that recreates stories of the Vietnam War and the secret war waged in Laos and Cambodia.
In December 2020, 5 months before the CDLC was announced publicly, Savage was approached by a volunteer team of veterans, historians, lawyers and others, including the Special Forces Charitable Trust, that had advocated for COL Davis to finally be awarded the Medal of Honor. You can read about the team's epic struggle for justice in this Task and Purpose article.
The Savage team immediately agreed to help re-create the historic scenes of the epic battle at Bong Son, Vietnam on June 18, 1965. Bohemia Interactive CEO Marek Španěl personally gave his approval to produce the artwork, accepting the risk the unannounced CDLC might be leaked as a result.
Pic: Captain Paris Davis (right) showing Commander MACV, General William Westmoreland (centre), around the Bong Son A-camp, 1965. Photo from Paris Davis.
AN HISTORIC MISSION
The Savage team, including French (PapaBear), Portuguese (Whiplash) and Singaporean military veterans, worked right through Christmas and New Year to meet the urgent deadline for submission to the US Department of Defense. Savage CEO Rob "Eggbeast" Graham managed the process and attended eye-witness interviews with eyewitnesses Ron Deis, who served on Davis' A-team and was flying support during the battle; Bob Baden who flew ammo supplies to the team, and took injuries and significant damage to his aircraft; and also with Davis himself.
In a later conversation with COL Davis, Rob explained his team's motivation to help: "From me and all my buddies who've read your story, many of whom are veterans, we'd all love to see you get the recognition for your selfless and courageous actions on June 18, 1965."
Wounded four times while fighting off hundreds of Viet Cong, as last-man standing then-Captain Davis saved his four wounded US team members from certain death, even refusing orders to abandon them for dead.
Pic: A wounded Davis refuses orders to abandon his position for the second time during the battle. Re-creation by Savage Game Design
Pic: While taking heavy fire, Baden's crew throw out much-needed ammunition to Davis' beleaguered position. Both the door-gunner and co-pilot were wounded. Re-creation by Savage Game Design
Despite his own significant injuries, Davis called air and artillery support on waves of enemies intent on storming his position. At one point, he desperately fought off 12 enemy soldiers in hand-to-hand combat.

Pic: While being shot himself, Davis carries Billy Waugh to safety. Re-creation by Savage Game Design
After recovering three of his team mates, Davis crawled 150 yards under machine gun fire to find his last teammate Bobby Brown, who asked "Am I gonna die?" Davis replied, "Not before me."
Pic: In the open and under fire, and suffering multiple wounds himself, Davis drags a wounded Brown to safety. Re-creation by Savage Game Design
MEDAL UPGRADE PACKAGE
The medal upgrade package, including a website containing the visual rec-reation of the events during the battle, was submitted to the US Department of Defense. Acting Secretary of Defense Chris Miller was impressed and wrote to thank the team personally for their artwork. "We are grateful for your commitment to honouring our Service members and using your talents to preserve the legacy of a heroic Soldier." He added that it was "a paradigm altering contribution."
The story broke in February 2021 and made the front page of the New York Times and was featured on CBS TV, and the Army began its review. Former Secretary Chris Miller then published an opinion in USA Today critiquing Pentagon bureaucracy and urging action from the US President.
On February 13, 2023, COL Davis was finally notified in person by President Biden that he had been awarded the Medal of Honor, after a 57-year wait. CBS News captured the moment when the President called.
Davis issued a statement shortly afterwards, thanking everyone involved in telling his story. In a prior video call, he thanked Team Savage for its help: "I just want to thank you for listening to me, and being kind enough to do it. I just can't thank you enough for your time, your energy and your curiosity, because it's that curiosity that leads to the story that doesn't write itself."
Pic: Colonel Paris Davis records a full account of his wartime experiences at his home in Virginia. Photo by Savage Game Design
AN HISTORIC OCCASION
Along with the other members of the campaign team, Rob and one of the artists, Pedro "Whiplash" Rodrigues, were invited to represent Team Savage at the award ceremony on March 3, 2023 at the White House. "I just couldn't believe it!" Said Pedro, after finding out he was going, "My mum was hysterical! We are all so happy to have a chance to honor COL Davis in person, his story moved me so much."
Pic: Rob and Pedro with CSM Josh King and Col. Brent Lindeman, the command element of 5th Special Forces Group (Airborne) meet before the ceremony in Washington DC. Photo by Savage Game Design
Bohemia CEO Marek Španěl also praised the team for its work: "We were very happy to support Rob and his team working on this special project. It's a great testament to the passion of the SOG Prairie Fire team for honoring the history of Special Forces veterans. Well done to them and the team that supported the medal upgrade, and special congratulations to Colonel Paris Davis upon receiving this highest honor."
Pic: Watched by the world's media, his friends, family and Team Savage, Col. Davis is congratulated by President Biden, after being awarded the Medal of Honor. Photo by US Army.
You can watch the full White House ceremony here.
After the ceremony, Rob attended a dinner for the campaign team to gather with COL Davis and spend a moment together to share in the satisfaction of a mission completed.

Pic: The campaign team featuring Special Forces Generals Leahy and Gillam, former Secretary of Defense Chris Miller, SGM Tommy Shook, CBS chief correspondent Catherine Herridge, Rob Graham from Savage, volunteer military wives, several lawyers and investigators, several vietnam SF vets, Paris Davis and Ron Deis. "Together we got this done." Photo by Regan Hopper Davis.

Pic: Rob Graham (Savage), Col. Paris Davis MOH, and 3-tours-in-Nam USMC doorgunner Jim Moriarty, the lawyer who drove the campaign team to victory. Photo by Regan Hopper Davis.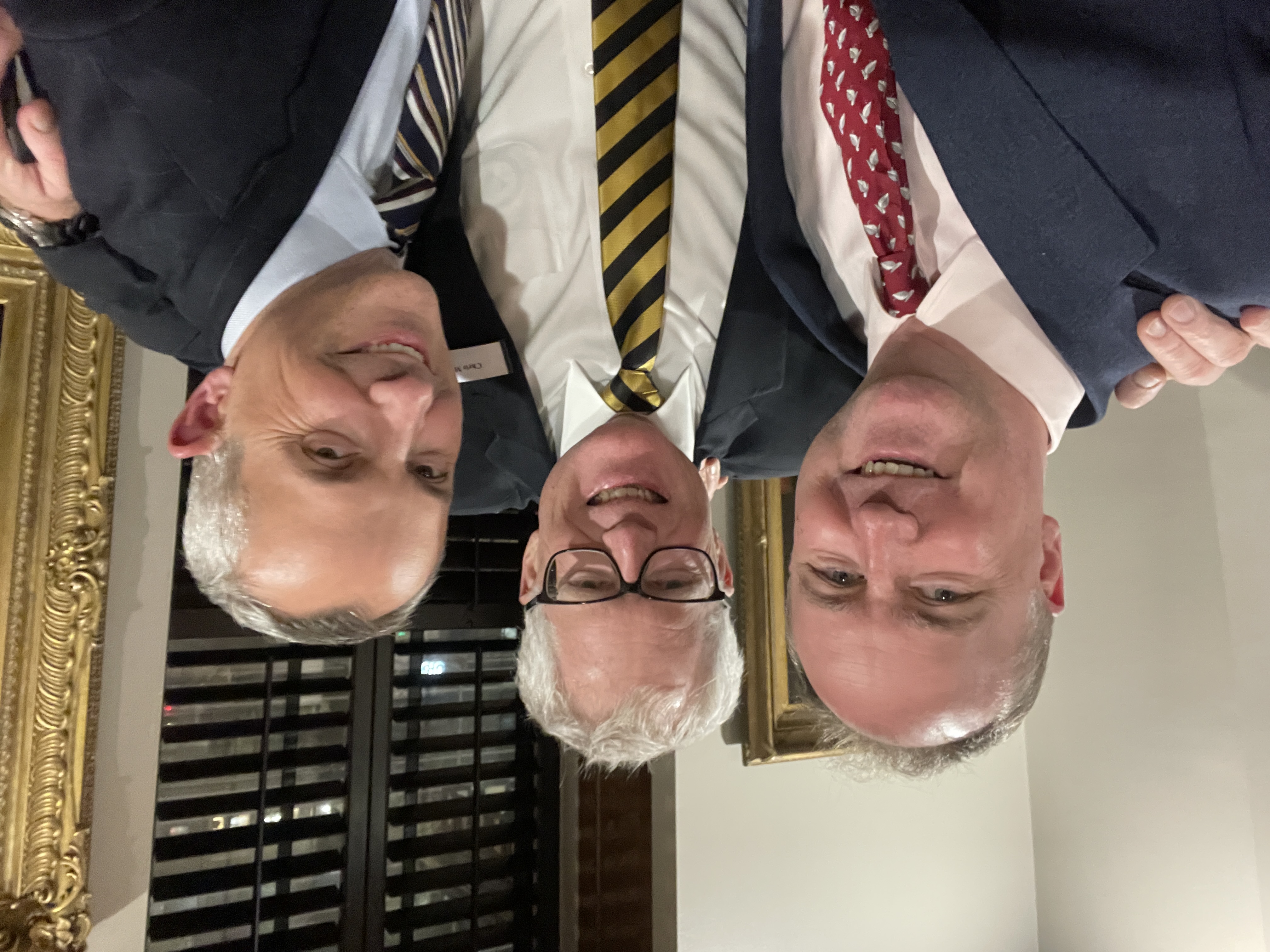 Pic: Rob Graham (Savage), former Secretary of Defense Chris Miller and his former Special Adviser Robert "Al" Broadbent celebrating their successful campaign together. Photo by Jim Moriarty.

After the White House Ceremony, there was a special VIP visit to the new Museum of the US Army where COL Davis, his family, and the campaign team were honoured guests of the museum's Director. After this memorable trip, the US Special Forces Association Charitable Trust hosted a reception and banquet.

After a day of rest for everyone, the team were bussed into the Pentagon, to see COL Davis honoured by Christine Wormuth, the Secretary of the Army and General James McConville, the Chief of Staff of the Army.
"Driving through DC with a full police entourage running blue lights for the second time in four days was awesome," said Pedro, "I just couldn't believe it. Then when we got inside the Pentagon, we saw our images were being used everywhere! It was so surreal."
Pic: Army materials celebrating the Paris Davis Medal of Honor events featuring S.O.G. Prairie Fire images created by Whiplash, PapaBear and Dugong. Savage Game Design.
Pic: The Secretary of the Army presents the Pentagon Hall of Heroes plaque to COL Davis during applause from the Assistant Secretary of Defense, Regan Hopper Davis, The US Army Chief of Staff, and the Sergeant Major of the Army. Photo by Savage Game Design.
You can watch the ceremony and moving speeches here.
The Army has created a website to honour COL Davis, where you can see the S.O.G. Prairie Fire images used in the battle re-creation. The events were covered by the world's press, with many featuring the images created by Team Savage using S.O.G. Prairie Fire, like this Fox News video.
Savage has a YouTube channel where it publishes video interviews with Vietnam veterans. "The team is over the moon about the award," said Rob, "we have several interviews with COL Davis, coming out very soon, along with podcasts with Ron Deis who served in the A-team during the battle, and Bob Baden who flew the ammo resupply mission. This story is best heard from the Colonel himself, and the men who fought alongside him."
ADDITIONAL OPERATIONS
Some proceeds from sales of the CDLC Soundtrack are donated to the Special Operations Association, which supports Savage to share SOA members' stories of top secret missions in the CDLC.
Pic: Team Savage demonstrating the CDLC game to Special Operations Association members at its annual reunion, October 2022.
The dev team is passionate about military history, with many of its members and players of the game being veterans or living history reenactors. The CDLC is enjoyed by many thousands of players, interested in the history of the war, and it is currently featured at the Imperial War Museum in London as part of the Arma 3 presentation in the temporary War Games Exhibition.
In September 2022 Rob attended the dedication of a MACV-SOG memorial display at 5th Special Forces Group Hall of Heroes, Fort Campbell. His team and its advisers assisted with the display which features four historic figures with authentic equipment, and a movie explaining the story of the unit, also made using the S.O.G. Prairie Fire CDLC.
"The living history team and military advisers who support our work are amazing" Rob said, "they are also helping with the Eldon Bargewell memorial at Delta Park. We are so lucky to be able to work with passionate people, intent on preserving history and telling true stories of the men who served in the Vietnam War. There is so much we can learn from their history, and games done right can tell stories in ways that reach a whole new generation."
Savage is currently working on a number of historical preservation projects related to Special Forces in Vietnam, so you can expect to hear more from them, and their veteran friends, in the future.
Savage Game Design shares development insights via their social media accounts on Facebook, Twitter, and YouTube. Please subscribe to keep up to date with their work.
More news articles about COL Davis can be found here: