UNIT: John K. Noviks, External Developer, BRAVO ZERO ONE Studios
TO: Arma 3 Users
OPSUM: Balance of power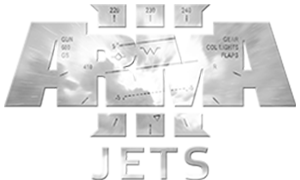 LOOKING BACK
It's been a year now since Jets DLC was released to the public. Working alongside Bohemia Interactive as a third-party developer with strong community roots, everyone here at B01 has been extremely excited to see the community's response, and we'd like to say thanks to everyone who provided feedback and supported us in our journey to deliver this awesome content for Arma 3. The last year has been very busy for both ourselves and Bohemia. More creative and interesting content has been introduced, the platform itself has received significant updates with other DLC packs, and, as some may have noticed, we have made numerous tweaks and improvements to the Arma 3 Jets content and features.
FLIGHT SCHEDULE
So what's next? Is this the end of our mission? Not yet! After the release of Jets DLC, instead of taking a break, we decided to go back to our creative "hangar" to continue work. We have been studying your valuable feedback, reviewing our previous concepts, and brainstorming new ideas. We are happy to continue supporting this amazing game and the content we love so much. Our maintenance team will make sure the jets are serviced and ready for the next flight.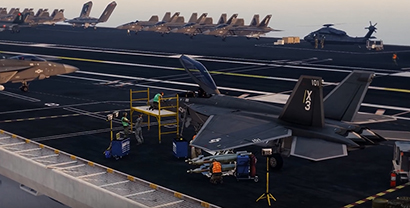 NEW ASSETS
Now it's time to open up the "hangar" doors and roll out our shiny new toys; free bonus content for all Arma 3 players to enjoy. Let's look closer at the new content and features we are introducing in this upcoming post-release update (version 1.84):
The USS Liberty Destroyer, SAMs, and Radar Sites are static in-game objects that can be positioned across the map via the 3D Scenario Editor.
DEVELOPMENT INSIGHTS
Our motivation for choosing these assets was primarily driven by community feedback. The creative execution and gameplay balance were top priorities for the design team. Jets DLC was never just about fast jets. We wanted to enhance every aspect of the above-ground battle-space. The team has maintained this game-balancing approach, adding an exciting combination of new features, weapons, static objects, and autonomous assets, to further enhance the Arma 3 experience.
The Ship
Our expert ship-building artist Don Ray Reed IV took on the challenge of creating a unique new ship model with a fully detailed interior, the "USS Liberty" destroyer. Using the expertise acquired from building the largest ship in Arma 3 - the "USS Freedom" aircraft carrier - he has again delivered an awesome asset that pushes Arma 3 boundaries even further. His design of the internal layout allows mission designers and players to use this asset as a versatile starting platform for a wide range of missions. It features both small boat and helicopter deployment and powerful new naval fire-support capabilities. The ship itself is like a small map on the water. Featuring additional props and naval weapons systems, this platform can be easily customized by community mission designers and players.
Radar & SAM Systems
While part of our team was ship-building, Luiz Cordova and Rob Graham were developing devastating new assets to test pilot skills and allow mission designers enhanced control of airspace and improved balance. New radar systems and surface-to-air missile (SAM) batteries are driven by an expanded Data Link concept by Bohemia Interactive developers Filip Řepka, Vojtěch Hladík, and Ondřej Kužel. The updated missile simulation and Data Link allows for a more authentic and integrated battlefield experience. Pilots can choose two new missiles and one bomb on fast jets to enhance customization and gameplay in the battle for air-supremacy. To counter the new SAM threat, beyond-visual-range Anti-Radiation missiles are available on advanced NATO and CSAT jet fighters.
PRE-FLIGHT CHECKS
You'll be excited to discover that we have just deployed these new toys to Arma 3's Dev-Branch, so be sure to check them out! As always, we will be paying attention to your valued feedback on the forums and Feedback Tracker as we continue to improve these assets before their release, which is scheduled for somewhere in July.
In closing, we are looking forward to seeing all of your videos and screenshots and hearing your ideas and suggestions. The Arma community really inspires us to develop game content, and is the definitive proof of Arma's continuing success.
Thank you for your support!
John K. Noviks
BRAVO ZERO ONE Studios