UNIT: Greg Becksted, Community Developer, Publishing Dept.
TO: Arma 3 Users
OPSUM: Reflecting on the first official Arma 3 tournament.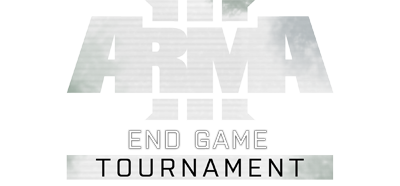 Welcome to a special OPREP on the Arma 3 End Game Tournament. Here we'd like to briefly discuss the higher level goals of the End Game Tournament, provide a short summary of how it progressed, and share some of the key lessons learned.
Before we dig in, for those who missed it, the Arma 3 End Game Tournament was a head to head single elimination tournament - featuring 8 teams made up by community groups, developers, and other special guests. The tournament unfolded over the month of November, leading up to the Finals on Saturday December 5th. All matches were live streamed on the official Arma 3 Twitch channel.
To retro-actively catch the action yourself, head on over to the official Arma 3 Twitch channel to re-watch any of the previous live streamed match ups in their entirety here. Or check out the full and some edited down shorter highlight versions on MicOne's YouTube Channel here.
The Goal
First and foremost, the tournament's main goal was to organize a fun and entertaining live stream event. Of course we also seized it as an opportunity to promote the revamped End Game multiplayer mode, featured in the recently released Arma 3 Nexus update. On top of that, it gave us a direct purpose to reach out and connect with Arma community members and groups, plus establish the ground work for potential similar activities in the future.
With those goals in mind, from the early planning and discussions of the tournament, we already knew we would be facing some unique challenges. To name three specifically:
First, End Game mode was not specifically designed to be used in a tournament setting. Plus, since we're a relatively small team and thus always need to consider our priorities, we were careful not to take away any resources from the core Arma 3 dev team.
Second, we wanted to finish the tournament early December, as we wanted to stay ahead of the busy holiday season for a number of reasons. However, the Nexus update was still in development, and changes were still being made to get it ready for release.
Third, we knew we had to host this tournament over the Internet, with players connecting from all over the world (mostly Europe). This would bring along some uncontrollable risks, such as connection issues (in contrast to hosting a tournament in a more controlled LAN environment).
Despite these challenges we decided to press on with the plans, as we felt these limitations would be acceptable given the modest intentions for this tournament. After all, this event would be primarily played for fun.
With that in mind, after seeing some of the highly entertaining shoutcasting events Bravo Company's MicOne was producing (called Friday Night Fights), we knew we had to contact him to see if he might be interested in doing the commentary for the End Game Tournament. We were ecstatic to hear back from him and that he wanted to get involved. Even better, he also brought in the leader of Bravo Company, Stardog, as the co-commentator.

Next, we reached out to some of the established Arma community groups in the European general timezone, to see who might be interested and available. One thing we can say about the Arma community is that it is filled with positive, receptive and enthusiastic people who are ready to get involved. Many thanks go out to all the teams who participated: RG Task Force (UK), OFCRA (FR), Armalusa (PT), BDR Clan (IT), Liberated Gaming (UK) and Tangodown (NL). The slots for teams were filled very quickly, and we still had a huge list of potential teams that we could have contacted.
Of course, with this being our first tournament live stream event, we wanted to add something unique to make it special. Thus, the Bohemia Dev squad came together, a team consisting of Bohemia Interactive developers: oukej, Burkhar, klamacz, Iceman, Zipper5, smookie, Adam, falagor and team leader Endstar. And, for the final team, a new team made up of individuals, Arma personalities and prominent live streamers, the 'Arma 3 Ambassadors': -1PARA-Melle, PLAYERUNKNOWN, Jester814, Acesfury, aimPR, Moondye7, Exec, SbiggsTV, Aethos19D and BreaK71.
The Highlights
As previously mentioned, it's worth watching the replays here or here. Words don't really do justice to the full experience you get from watching it and listening to the commentary from MicOne and Stardog. Overall, we can honestly say each of the match ups were action packed filled with unique and epic moments. From the tie breaker rules confusion on the first day of the event, which lead to a show of true sportsmanship by Tangodown who agreed to a sudden death rematch with the Arma 3 Ambassadors, to the interesting evolution of strategies teams were using, and an epic final showdown between the Arma 3 Ambassadors and RG Task Force, in which the Arma 3 Ambassadors secured victory in a close 3-2 match.
The Takeaways
Even though we were aware of certain limitations going into this tournament, we still learned a great deal more. While it's probably not so interesting to go into each little practical detail, here are some of the key takeaways:
End Game & Spectator Cam: Using End Game and the Spectator Cam in the tournament setting helped us discover some things that could be improved. It exposed some issues that the development team were immediately able to resolve, while others are still being worked on.
Defining the Rules: For any type of tournament, even if it is just for the fun and entertainment for viewers, we learned that it's essential to have all the rules spelled out clearly, including the potential tie breaker scenarios (as we found out 'the hard way'.
Live stream presentation: Unfortunately, we cannot yet justify a fully equipped studio setup for our live streams, and thus are somewhat limited, but we worked hard together with MicOne and StarDog on a professional presentation of our live streams. It's definitely not to be underestimated; the details and the complexity of a tournament live stream required multiple solutions for back up plans and testing fail overs. Information in a live tournament event changes dynamically on the fly, so its important to have a plan for transitions, score updates, potential downtime and more. It's also important to have a run time schedule that includes a minute-by-minute break down that all participants and coordinators can use as a guide to queue from.
3rd person view: It was decided very early on that 3rd person view would be allowed, as we wanted to showcase 'vanilla' Arma 3, plus we had participants coming from a wide range of different play styles. However, as many people responded, we realized that providing a competitive framework is critical for a tournament, even when its primary purpose is to provide entertaining streams to watch. Thus, potential tournaments and competitive events we'd organize in the future will most likely restrict participants to the first person perspective. That said, we should probably also point out that, even though the spectator camera showed a 1st person perspective or 3rd person chase view, it did not mean the player was using it. In other words, watching the match from the spectator perspective does not show which view the participant is using (from what we know most participants in the tournament were actually only using 1st person perspective).
Interest from the community: The tournament helped bring some more exposure to End Game, but most importantly, it showed that there is interest within the community for events such as these, albeit with different types of scenarios. It was a pleasure to see people getting involved and share their excitement, and to us, it definitely felt as if the tournament brought people closer to each other.
Connecting players: We had Bohemia Interactive developers as a team, Arma 3 Ambassadors as a team, and established squads all participating. This unique combination of players and teams brought people from different areas together. It was interesting to see the different play styles and to watch these people connected. It has inspired us to keep this as a focus for future events moving forward, to keep an eye on bringing communities coming from different backgrounds together.
The Wrap Up
In closing, once again hats off and respect to the teams and players that participated. Many of whom went out of there way to offer support and suggestions to help make the tournament better. To Tangodown for their show of ultimate sportsmanship by allowing the rematch to occur. To Andrews, TAE and Reality Gaming for the enthusiasm, participation throughout the tournament and for putting up such a massive epic fight in the final event, way to go RG Task Force. And, most especially, to MicOne and Stardog for their involvement, collaboration, and truly excellent commentary for each and every match up.
Congratulations once again to the Arma 3 Ambassadors!
We look forward with optimism to possible future events in 2016 (we're currently considering something more focused on "milsim", and, of course, first person only!). Let us know what future events you might like to see. What kind of event would get your Arma 3 Unit fired up and wanting to participate? We would love to hear your feedback!
Thank you everyone for your enthusiasm and participation. We hope you all have a good holiday season!
Best regards,
BohemiaBeck
P.S. We recently uploaded the final match to the Arma 3 YouTube Channel. Enjoy!