UNIT: Savage Game Design
TO: Arma 3 Creator DLC Users
OPSUM: Review of the S.O.G. Prairie Fire 1.2 Update
EVALUATION
Hello Arma 3 players!
The team behind S.O.G. Prairie Fire is excited to be rolling out our second major update, with new assets, factions, missions and terrain to expand your Vietnam War experience.
The 1.2 update was released on July 12, 2022, and your game should update normally on Steam. Please remember, after large updates, to verify Arma 3 local file integrity in your Steam library.
The MP Compatibility data pack has also been updated, for non-owners of the DLC to try the assets out, or join multiplayer servers with the usual DLC licensing limitations.
This is a big update, so strap in! You can watch the trailer on our website, on the Steam store page, or on the Arma Platform YouTube channel
WELCOME TO LAOS

This unique new terrain, designed by dev team member Razorback, enables players to design and run missions around an infamous section of the Ho Chi Minh trail in Laos, nicknamed "The Bra" by MACV SOG units, due to the road shape, viewed from the air.
Covering 25 km2, the Bra provides players with a highly-detailed micro-terrain and dense foliage not really possible on larger terrain sizes. It suits recon patrol operations on foot, with many hidden jungle caches, caves, POW camps and a tunnel system.
To get you started we have included 4 new Zeus missions and separately released an updated Mike Force mission on Steam for it.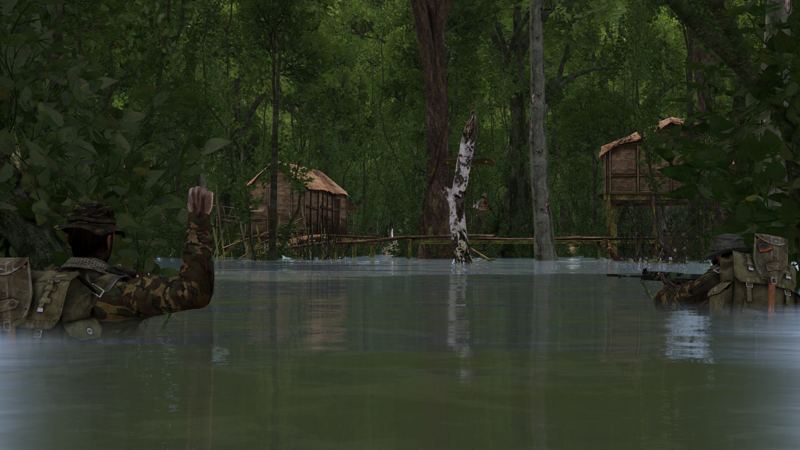 A BIGGER WAR

The war in Southeast Asia was a coalition war - between many nations on each side. In Update 1.2 you can now play as Australian, New Zealand, and South Korean forces, or fight the Lao civil war as the Royal Lao Army opposed by the Pathet Lao. There are also new CIA and ARVN Marines units.
Each faction is equipped with new custom weapons, equipment and vehicles, and an ambient voice pack is included for both ANZAC nations. The new factions feature 400 new soldier classes, able to wear 20 new uniforms (with 65 variants), 14 vests, 5 packs (with 12 variants), 4 accessories and 11 new headgear items.
Other factions have been upgraded, with new faces, weapons, headgear and camouflage patterns. The 4 MACV SOG team advisers we worked with now have their faces recreated in the game, along with new Montagnard and Vietnamese faces.
For a neat overview of the Australian faction check out this community movie made by our Australian and Kiwi friends in XDF. These guys also helped with the scripts and voice-acted the new ambient AI voices.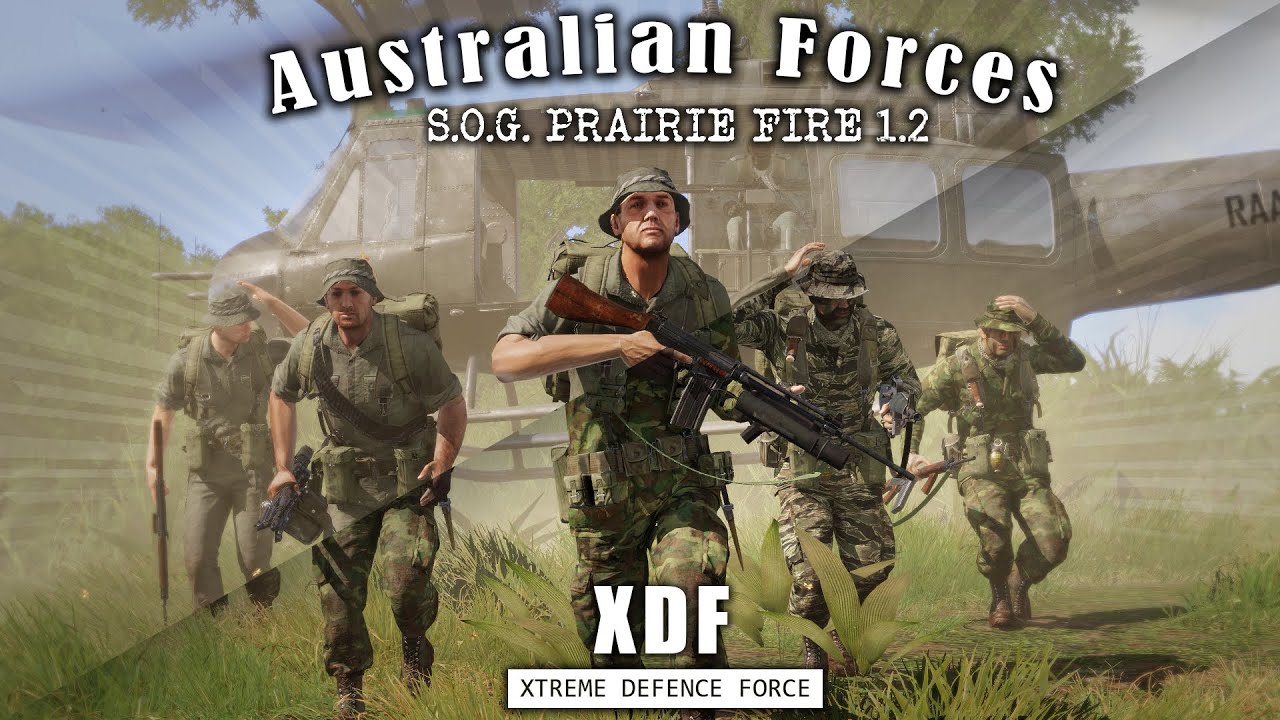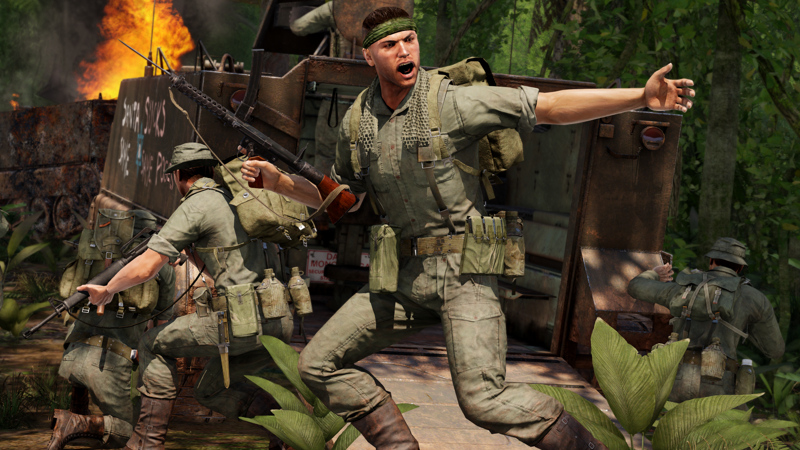 LAND, SEA AND AIR BATTLES
Update 1.2 features new vehicles and static weapons to further expand your gameplay.
2 new airplanes - The USAF F-100D versus the VPAF MiG-19.
8 new helicopter models - Authentic UH-1B, D, E and F transports, and UH-1B, C, E and P gunships, Australian UH-1D Bushranger gunship, and additional medevac and unarmed transports.
5 new boat variants - 2 PBR MkII patrol boats and 3 SEAL Team Assault Boats.
1 new light tank - PT-76A and B variants.

1 new APC - M113A1 with 7 armed variants including M2, M1919, Mk18, M40A1, M60, and M134 weapons.
1 new car variant - The M151 with M40A1 107mm recoilless rifle.
5 static weapons (8 model variants) - New light machine guns (SGM and MG42), H-12 multiple 107mm rocket launcher, the M40A1 106mm recoilless rifle and the Mk18 hand-cranked 40mm automatic grenade launcher.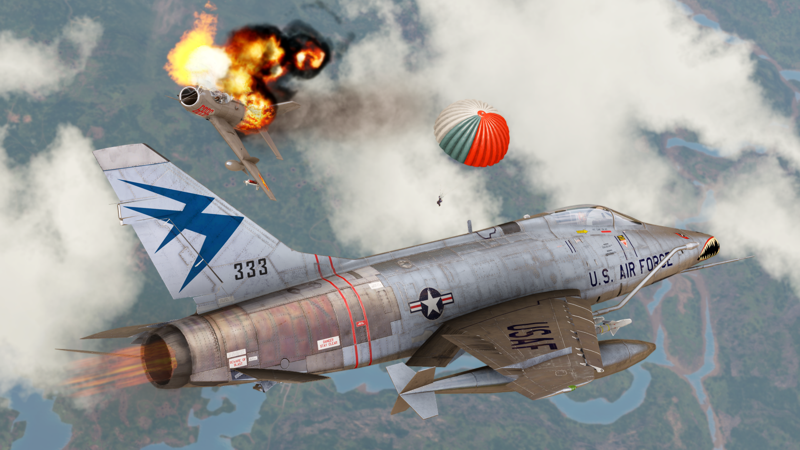 WEAPONS OF WAR

The 1.2 Update adds 8 new weapons, with detailed animations, sounds, and melee features.
F-1 SMG, the L2A1 LMG, and the L1A1 Self-Loading Rifle with bayonet, scope and rifle grenades.
SAS field-modded L1A1 variants, with shorter barrels, foregrips, larger magazines, XM148 grenade launchers and camo paint schemes
Early XM16E1, XM177E1 and M16, and USAF GAU-5A/A with SP optic, and an M16 bipod. The M16A1/XM148 model has been updated and a late-war M16A1 with M203 40mm grenade launcher added. There is also a new M14A1 LMG with pistol grip, foregrip, full-auto and bipod.
M1 Garand, including bayonet, scope and rifle grenades.
M1918A2 LMG with bipod.
vz.54 sniper rifle.
18 new mines and traps - Be wary of innocent looking objects like lighters, pots, jerry cans and bicycles, which the VC packed with explosives. In the jungle there are mortar bomb traps strapped to tree branches and 2 new swinging spike traps. As well as the PAVN DH10 directional mine, No.8 mine, deadly grenade board trap and cartridge toe-popper, PAVN and VC sappers can now attack with bangalores and throwable satchels. Both sides have underwater limpet mines. The US also has Mk36 Naval Mine and Mk36 Destructor mines dropped by aircraft.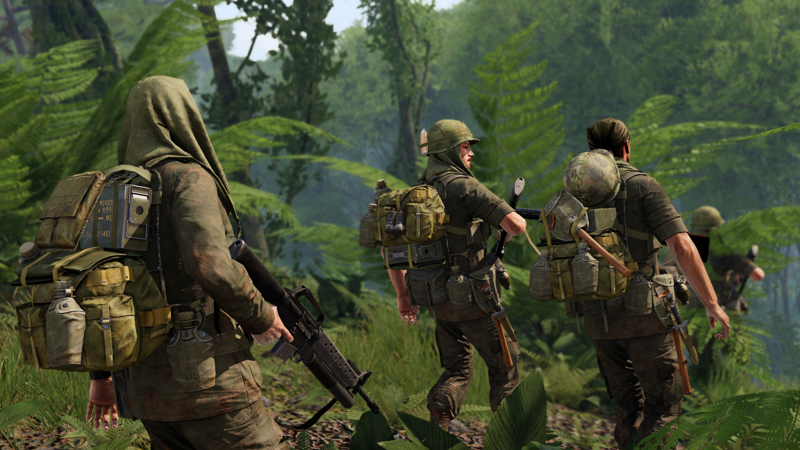 NEW OPERATIONS

The 1.2 update adds two new MP co-op campaign missions
Infiltrate a North Vietnamese port in a daring Navy SEAL raid in CO-06 Black Spear.
Plant booby-trapped ammo in an NVA camp west of Khe Sanh in CO-12 Eldest Son II.
Bonus Air Support: some missions in the Prairie Fire Multiplayer co-op campaign now have an air support feature for the team RTO once a Prairie Fire Emergency is called.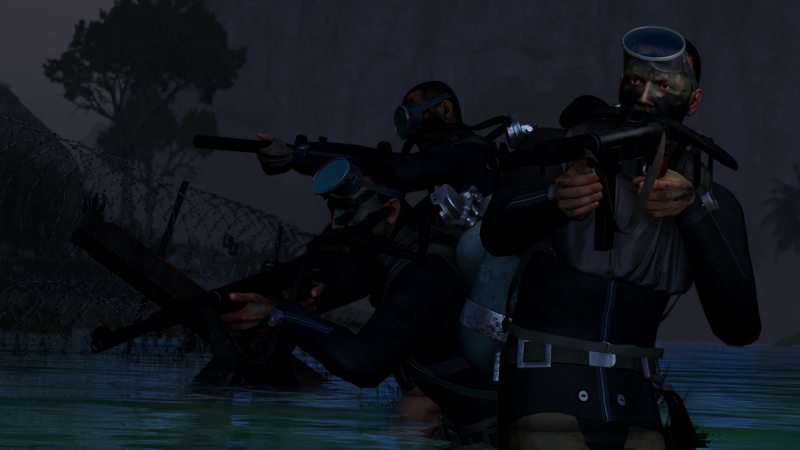 DEVELOPMENT INSIGHTS

Since releasing S.O.G. Prairie Fire in May 2021, the team has been monitoring feedback from players, in our wishlist and especially in our feedback tracker and we are very grateful for all the detailed feedback, bug reports, and suggestions that have been submitted.
The team has completed approximately 300 feedback tickets in Update 1.2 all logged in the detailed change list. The Prairie Fire Wiki has also been updated with all the new classnames.

The Prairie Fire dev team has continued to be motivated by all your positive feedback and comments, and we do have further updates planned, but cannot confirm details to avoid risk of any broken promises! You can also share in community conversations in our Discord server.
COMMUNITY HIGHLIGHTS

The energetic Prairie Fire player community has been a constant source of inspiration for the dev team since release. Here are some of the highlights:
Accompanying the 1.2 release of VN is Mike Force 1.0! This comes with new features, new maps, reworks and improvements to the underlying systems.
Some highlights of Mike Force 1.0:
A version for "The Bra": fight with more limited air assets but more ground vehicles on this densely-packed map in the most difficult version of Mike Force yet.
A version for Altis: play Mike Force with only the S.O.G. Prairie Fire compatibility pack!
1.2 assets: play with the new vehicles, weapons and gear.
Spike Team: play as one of a small number of recon team members, with bonuses to scouting and staying hidden.
Tutorial hints: "Survival card" themed hints have been added to help new players learn the basics of the mission.
Plus improvements to scouting, a new wreck recovery building, dynamic groups and more!

We're also making Mike Force and its supporting library "Paradigm" open source (subject to a simple licence agreement). People will be free to modify and extend Mike Force for their own communities, and contribute their own changes to the base mission. We're excited to see what everyone comes up with, and to continue to develop the mission with more input from the community.
Thanks to all the community mission creators there are now 76 missions in our official mission collection on Steam workshop including the Sand in the Soup and Recondo campaigns by Katane and FUBAR. Be sure to check this collection out for both intense multiplayer and singleplayer action.
Popular game modes Antistasi and ALiVE have both been updated for 1.2 - be sure to check them out.
We're also pleased to see many players creating mods for Prairie Fire, with 41 mods combined in our official mod collection on Steam.
The team would like to say a special thanks to all the modders, mission-makers and content creators out there who love creating more enjoyment for players in Prairie Fire. Keep up the great work, and let us know if we can help you.
CLOSING WORDS

Thanks to donations received from the Arma 3 community, the Military and Veteran Gamers charity (MVG) can now offer free access to the ARSENAL stress resilience test to any veterans who apply in their discord. The charity does excellent work in peer-to-peer support for veterans who play games online. This work is very close to the hearts of our MACV SOG veteran advisers, who take a very personal interest in it.
Thank you all for supporting this important work, and if you're a vet, sign up to take the survey, it will build on your inner strength, and also show you a tool that a buddy might benefit from. Developed by vets, used and shared by vets, supporting vets.
You, the S.O.G Prairie Fire community, have so far raised $26,000 to support veterans with peer-to-peer stress resilience, and, through buying the DLC Soundtrack, a further $6,000 for the Special Operations Association to carry out its important work in tracing and repatriating the remains of soldiers lost in the Secret War. For that, thank you!
We have more veteran podcasts in the works, and will be playing online in the coming weeks to see how you enjoy all the new content. Have fun!
Rob Graham
Project Director, S.O.G. Prairie Fire