UNIT: Jan Dušek, Audio Lead; Kryštof Havel, Junior Designer, Audio Dept.
TO: Arma 3 Dev-Branch Users
OPSUM: Ongoing upgrades to Arma 3 weapon audio.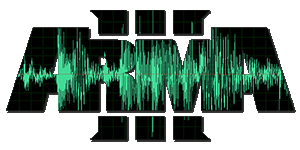 EVALUATION
For Marksmen DLC, alongside our work creating samples for the new content, we decided to take a closer look at the sound design of our existing weapons and try to make some enhancements. We'd like to share the general goals of our work, describe the changes hitting Dev-Branch soon, and look ahead to our future plans.
Overall, our objectives are to (1) achieve a higher degree of authenticity and 'richer' soundscape, (2) unify the quality and 'clarity' of all samples, (3) unite 'clean'-shot samples with redesigned samples for suppressed shots, (4) prepare the data for future features and (5) reorganise the internal folder structure.
OBJECTIVES
Let's take a brief look at some of the actions we've taken to achieve these goals. One aspect is spectral accuracy (mainly in first person). In reality, the frequency range is much wider than we had in most of the previously used samples. Our new sounds are being designed more precisely using our own new recordings together with various 'sound enhancers', e.g. bass sine-wave kicks.
Another is dynamic range. In many games you can hear almost old-school Hollywood SFX in the term of loudness compared to, let's say, footsteps. In our series, we try to keep as much of a realistic ratio between silent and loud sounds as feasible. For Arma 3, we are carefully tweaking samples to provide a more authentic experience, while adding more 'punch' to the audio.
Also worth mentioning is redesigned sounds for suppressed shooting. New samples are currently prepared per caliber and per type of weapon but, in future, we hope to mix specific samples for each weapon. These new samples are currently based on clean shot sounds, so it will provide a better feeling, like you are using the very same same weapon with a suppressor attached.
UPDATES
You can already try out the results of this work on Dev-Branch! Below, you can hear quick offline preview of the work, with the existing and new state of the Mk20 being fired from the shooter's position
Mk20

OLD
NEW
Mk20 (Suppressed)

OLD
NEW
The following weapons have been updated on Dev-Branch:
Katiba
MX
Mk 20
SDAR
TRG 20
Sting
Vermin
Mk 200
Zafir
ACP-C2
Zubr
Aside from the shot samples themselves, several other effects were updated to work better together within the specific weapon. These are the action and reloading sounds; volumes, the 'metallic' feeling, frequencies - all of these elements play a big role in the final engine mixdown.
These upgrades samples are only the first public iteration. We don't consider them all to be 100% final and recognise that there is still some room for improvement. There is some time budgeted for further updates and tweaks over the next few weeks. With that being said, we do feel that these updates raise the bar of quality, and we're keen to get them to Dev-Branch!
PLANS
From a technical point of view, there are two things to mention. First up, we are planning new features (always!), so the old samples will not be able to survive for much longer in their current state. These features generally cover better connection to the environment, so the way that the engine will work with new samples will be slightly different (but factors in backward compatibility). The second technical thing is that we are planning to reorganize the data structure of weapon samples. These changes are likely more important for community mods; more details will be announced and described in greater detail later.
Aside from samples themselves, we are also focusing on tweaks of sound propagation distances (audibility), distance attenuation filters, and sound occlusion filters to provide a better and more authentic feeling. There is also one more interesting thing to mention, which is not necessarily an audio improvement in its origin, but which will improve the feeling of a realistic firefight. Simply described, we changed the way that AI characters pull the trigger, so you should hear less of the more robotic, rhythmic bursts of alternating single shots; rather, you will experience a more natural 'human' behavior within the shooting.
These updates (in production for the upcoming Marksmen DLC) are part of our longer term plan to enhance and unify Arma 3's soundscape. Of course, this development is work-in-progress: open to feedback and subject to change! If you have not already, drop by our thread on the forums, or drop one of our team a PM. Thank you very much for support and we all are looking forward to your splendid feedback!
Stay tuned!