UNIT: Jan Dušek, Audio Lead, Audio Dept.
TO: Arma 3 Dev-Branch Users
OPSUM: Outlining the current & future goals of Arma 3's Audio Department.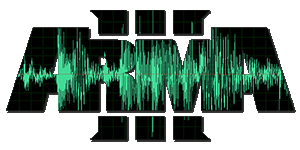 EVALUATION
Over the past few months, Arma 3's Audio Department was reorganized, reinforced and refocused upon the job of making Arma 3 sound great. Now it's the ideal time to update you with a summary of recent developments in our team, outline further changes we have planned and, let's say, share a sense of the future progress of Arma 3's sound in general.
Overall, our goal is to bring a richer, more complete audio experience, starting with new samples, through redesigning/fixing existing features and implementing brand new audio features, which we all miss the most.
FEEDBACK
First of all, though, we'd like to thank to everyone for their splendid feedback over the last few weeks, months, and years! Recently, we've set up new workflows with a bigger emphasis upon your feedback, because what makes sound great is the listener who appreciates it! We've been browsing around every corner where people who love Arma games were constructively commenting upon our soundscape, suggesting new features, reporting bugs or describing new solutions, and we've found many great ideas that could improve or enhance your audio experience.
Also, we must admit that - compared to other departments - the audio team hasn't been quite so responsive and communicative. We want to improve that, and try to be much more synchronized with players. If you want to contact us directly, feel free to do so via our forum accounts (or Feedback Tracker). The main Arma 3 audio team is currently composed of myself (doosh - audio lead), grichard and krystof. We also closely cooperate with other sound designers working on other projects, like DayZ.
FIX, ENHANCE, IMPROVE
Right now, we are focused upon improving the most neglected aspects of sounds in our game. Of course, our resources are still fairly limited, but our overall effort could be described in 3 words: fix, enhance, improve. This means finding a specific feature, analyzing what's wrong with it, thinking about what could be better, and finding new ideas, too. Simultaneously, we will be 'filling in the gaps': there are existing features which have never been utilized to their full potential and, in general, there is also lot of room for improving samples. As an example of new feature, I could mention the recent implementation of sounds for Animation Sources. That means map-placed objects that can animate (like doors) can now handle sounds in quite complex ways.
Another example is the behavior of sounds played in first person. Now, for instance, there won't be any issues with panning of sound for footsteps or animations, all those sounds are now played as 2D samples (with stereo support), so now we can even mix new stereo sounds for animations to improve the audio experience. By the way, the usage of stereo samples is great example of one of the underestimated aspects of A3 audio in the past, so now we are adding this support into more features, like vehicle interior sounds, for instance.
THE FUTURE IS NOW
Looking to the future, we of course want to avoid making promises we are not sure about, but there are some significant features and fixes we are planning to get into the game. We can mention the planned improvements to frequency attenuation for distant samples, we'll try to solve the fire handler global issue, there will be new system for character Foley sounds based on actual equipment, radio filters distance-dependency, plus many more small features that will, all together, push sound in Arma even further. From a long term plan I could even mention environmental effects or directional map ambient sounds.
Overall, thanks to all the feedback, we are now hunting down the most obvious audio issues. Together with those fixes, you can look forward to many new features and refinements and - to be honest - there are already many splendid audio engine possibilities that were not squeezed out enough - so let's do it! We love the game as much as you do so, with our reinforced team and your cooperation, we will use all our effort to provide the best sound experience we can!
Stay tuned!